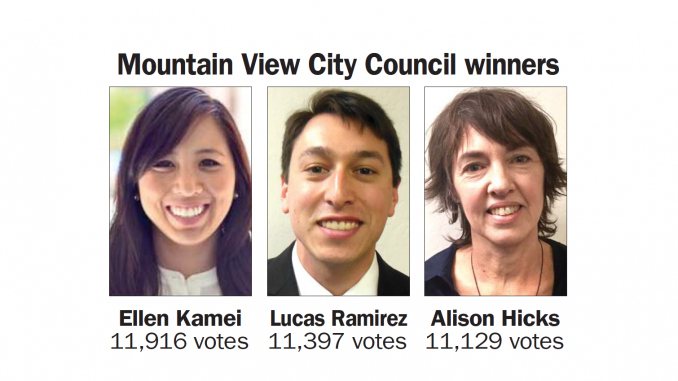 By the Daily Post staff
In the seesaw battle for the third seat on the Mountain View City Council, newcomer Alison Hicks has defeated incumbent Pat Showalter by 97 votes.
Santa Clara County on Wednesday (Dec. 5) completed counting the votes yesterday from the election a month ago.
In the council race, there wasn't much doubt since Election Night that the first and second place finishers would be Ellen Kamei and Lucas Ramirez.
But as the votes were counted, the candidate in the No. 3 position changed a couple of times.
Here are the final results:
Mountain View City Council
ELLEN KAMEI
11,916
19.00%
LUCAS RAMIREZ
11,397
18.17%
ALISON HICKS
11,129
17.74%
PAT SHOWALTER*
11,032
17.59%
LENNY SIEGEL*
9,929
15.83%
JOHN INKS
7,319
11.67%
*incumbent