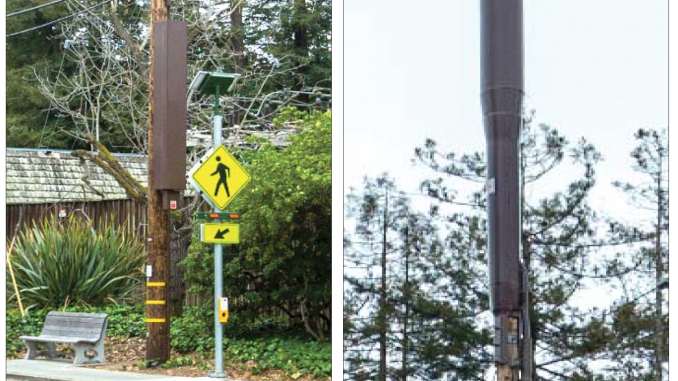 BY EMILY MIBACH
Daily Post Staff Writer
A Palo Alto resident is urging City Council to allow for more small "node" antennas to serve smartphones and wireless devices.
Residents have frequently gone to the microphone at council meetings to call for limits on the miniature antennas being installed by telecoms, saying they emit harmful levels of radiation. But resident Jeff Saunders had a different take on Monday (June 17) night.
He said if there are more small node antennas in town, it will be safer for residents.
"More towers equals less radiation. It's simple math," said Saunders.
Saunders said the radiation that could potentially affect people is coming out of their own smartphones. He said that if the antennas are far away from smartphone users, the phones will increase their signal power to reach the antenna. That results in more radiation for the smartphone user. But if the antennas are closer to users, the phone won't need to send out as much radiation.
"This is what to worry about," Saunders said, holding a smartphone by his head.
Others on Monday urged council to approve a rule requiring cell nodes to be at least 1,500 feet away from schools, citing concerns that children are especially susceptible to the radiation from the antennas.
But the council approved new rules 6-1 that say cell nodes could be as close as 300 feet from schools. Councilwoman Lydia Kou dissented from the majority.
Telecoms have been applying to the city in the past few years to install the "node" antennas on utility poles throughout the city. When these applications have come before council, usually several residents will complain about the radiation they emit. The last such hearing was on June 3, two weeks ago. "Two weeks ago, there were lots of impassioned statements and no science," said Saunders.