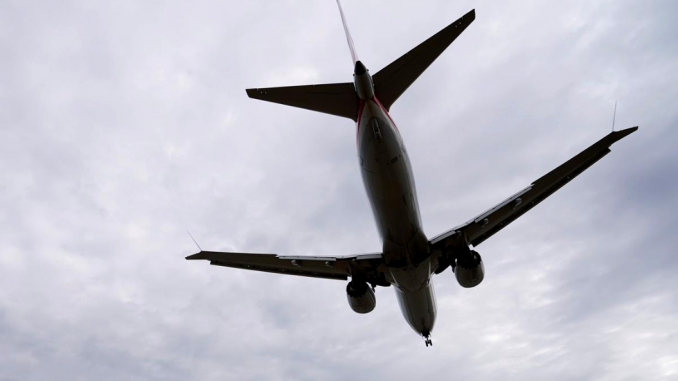 BY ALLISON LEVITSKY
Daily Post Staff Writer
Palo Alto city leaders plan to meet with attorneys to discuss suing the Federal Aviation Administration, which they say has stonewalled the city in its efforts to get information about problematic flight paths that residents say have worsened airplane noise, a problem for some residents that has stretched back years.
The city has until June 25 to sue over Pirat Star Two, a new flight path used by planes coming in from the west over the Pacific Ocean.
Pirat was previously restricted to use by certain airlines, but the FAA now wants to open it up to all flights into SFO and the Oakland International Airport.
One resident complained at Monday's (May 20) City Council meeting that the FAA doesn't release important information before changing a flight path. Even the city has not had letters and Freedom of Information Act requests returned from the FAA.
Mayor Eric Filseth wrote to the FAA on March 29 that opening Pirat Star Two to more airlines and expanding its use beyond SFO arrivals would increase the volume of air traffic and noise impacts.
'Noise-sensitive areas'
The FAA also hasn't spelled out what route those planes would take into SFO after reaching what is referred to as the ARGGG waypoint over the Peninsula.
Filseth wrote that the likely route would send planes over "noise-sensitive areas" such as wildlife refuges, water storage areas, historic areas and minority and low-income populations. "The FAA and the airports have not been forthcoming with regular, quantitative information on a routine basis on which we can understand what's going on and make judgments on where we're going," Crescent Park neighborhood resident Tom Rindfleisch said.
Collecting data on flights
Rindfleisch, who is the director emeritus of the Land Medical Library at the Stanford University School of Medicine, said he and other Stanford affiliates had gone to the effort of using a distributed array of receivers to collect data on the planes that fly over the Bay Area.
The four receivers track airliners and pick up GPS locations, altitudes, velocity, the time of day and the identity of the aircraft.
Marie-Jo Fremont got choked up when she said that a friend of hers recently died. It made her sad that he had to put up with frequent airplane noise in his final years in Palo Alto, Fremont said.
"I'm mad at the FAA because they have done nothing to provide any relief to residents," Fremont said. "They keep making things worse."
Several advocates said it was clear that the FAA has no interest in addressing the issue without legal action.
Health concern
Andy Robin recommended that the city sue on a "health basis," noting the particulate pollutants that result from increased air traffic.
Those nanoparticulates endanger lung health, he said.
Only a fraction of the local news stories covered by the Daily Post appear on this website. To get all the local news, including many stories you can't find online, pick up the Post every morning at 1,000 Mid-Peninsula locations.