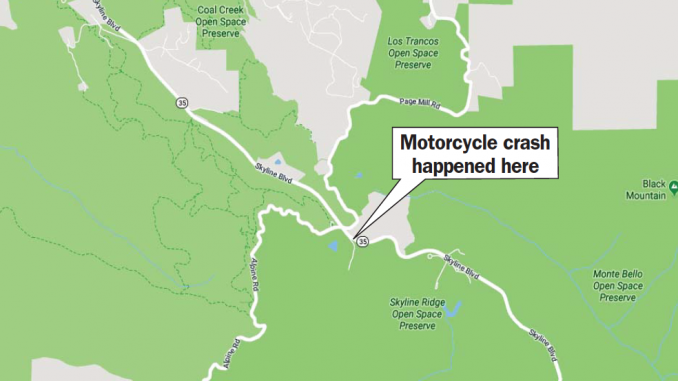 BY ALLISON LEVITSKY
Daily Post Staff Writer
A motorcyclist who died after she crashed next to Skyline Boulevard in Palo Alto has been identified by the Santa Clara County medical examiner's office as Mila Acevedo, 33, of San Jose.
At 3:53 p.m. Wednesday (May 9), Acevedo crashed a 2018 Ducati Panigale V4 R while riding south on Skyline about a mile south of Page Mill Road.
Acevedo was rounding a corner when she went off the road, crashed into a tree and landed in a ravine, police said.
She was ejected from the motorcycle and died. A motorist behind Acevedo saw a cloud of dust after rounding the same corner and discovered the crash, according to police.
Personnel from the state Department of Forestry and Fire Protection, the Woodside Fire Department, CHP, and the Santa Clara County Sheriff's Office investigated.
After officials determined that the crash took place within Palo Alto city limits, a CHP official called the Palo Alto police around 5:45 p.m.
The police department's Specialized Traffic Accident Reconstruction team then took over the investigation.
Police on Thursday afternoon didn't know how fast Acevedo was going or whether drugs or alcohol were a factor in the crash.
Investigators didn't believe that any other vehicle was involved in the crash.
Anyone with information about the crash has been asked to call the department's 24-hour dispatch line at (650) 329-2413. Anonymous tips can be emailed to paloalto@tipnow.org or sent via text message or voicemail to (650) 383-8984. Tips can also be submitted anonymously through the department's mobile app, which can be downloaded at bit.ly/PAPD-AppStore or bit.ly/PAPD-GooglePlay.
Only a fraction of the local news stories covered by the Daily Post appear on this website. To get all the local news, including many stories you can't find online, pick up the Post every morning at 1,000 Mid-Peninsula locations.