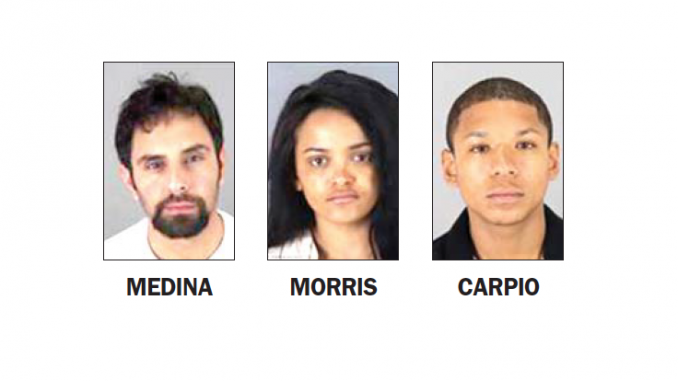 BY EMILY MIBACH
Daily Post Staff Writer
Three alleged identity thieves nearly delivered themselves to the Belmont police department after they were caught driving the wrong way down a one-way street that ends at the department's parking lot, said police Capt. Pat Halleran.
A police officer pulling out of the department's parking lot saw a car driving the wrong way down Waltermire Street, headed toward the police department, said Halleran.
The officer stopped the car and found out that there was a warrant out for the arrest of the driver, Roberto Medina, 33, of Glendale, said Halleran.
Police began to search the car, Medina and his two passengers, Hailey Morris, 21, of Glendale and Emanuel Carpio, 21, of Oakland. Carpio also had a warrant out for his arrest, said Halleran.
Upon searching the car, police found bags filled with IDs, credit cards, debit cards, gift cards and checkbooks, Halleran said. Two of the items were able to be traced back to auto burglary victims in the Los Angeles area, Halleran said.
There were also about 20 grams of meth in the car, said Halleran.
All three have been charged with possession of meth for sale and felony identity theft, said District Attorney Steve Wagstaffe. They could receive three years and eight months in county prison if found guilty of those two counts, said Wagstaffe.
They appeared in court yesterday (May 13) and all pleaded innocent, were appointed public defenders and all remain in jail on $100,000 bond each. The trio will make their next court appearance tomorrow (Wednesday, May 15).
Only a fraction of the local news stories covered by the Daily Post appear on this website. To get all the local news, including many stories you can't find online, pick up the Post every morning at 1,000 Mid-Peninsula locations.