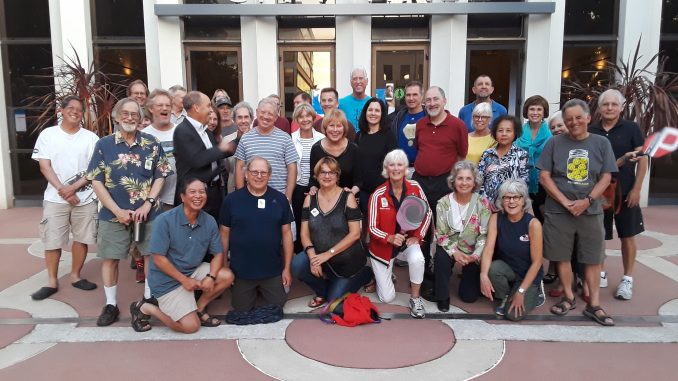 BY ALLISON LEVITSKY
Daily Post Staff Writer
The Palo Alto Parks and Recreation Commission has blessed a proposal to convert a tennis court at Mitchell Park into four designated pickleball courts, a compromise on a contentious issue between tennis players and the growing Palo Alto Pickleball Club.
The commission also voted unanimously Tuesday (April 23) to expand the tennis court area to include two new dedicated pickleball courts. Two existing tennis courts will continue to be shared by tennis and pickleball players.
Originally, city officials proposed converting three tennis courts at Mitchell Park into permanent pickleball courts. But that enraged tennis players, who didn't want to lose their lit courts.
"I think the tennis players would like there to be no pickleball players in Palo Alto, and the pickleball players would like there to be no tennis players," commission Chair Don McDougall told the Post. "I think everybody likes the compromise outcome."
About the game
Pickleball, which was first played in 1965, combines elements of badminton, tennis and ping-pong. Players use paddles to hit a wiffle ball over a net.
The game is popular among older people, some of whom are former tennis players who find pickleball to be easier on their knees or hips. But young people play too, McDougall pointed out.
The method of rotating courts can involve more players and be more social than tennis, McDougall said.
The Palo Alto Pickleball Club boasts 400 members, ranging from children to seniors.
The proposal will now go to City Council for final approval.
If it's approved, construction is set to start in August and finish in October, according to Palo Alto Pickleball Club President Monica Williams.