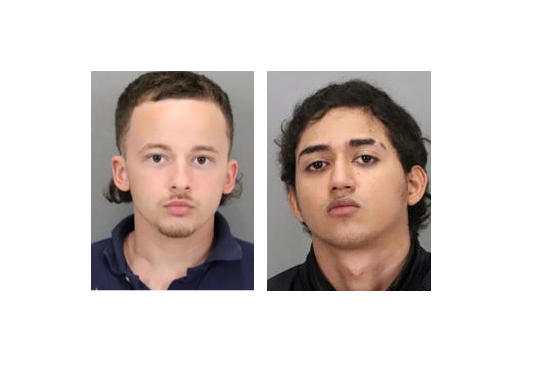 By the Daily Post staff
Palo Alto police, acting on a tip from a witness, caught two 18-year-olds moments after they broke into some cars in the parking structure at 445 Bryant St. in downtown, police said.
On April 18 at 9:37 p.m., police received a call about a car burglary in progress in the garage.
The caller reported that she had seen two guys looking into vehicles and then she heard glass breaking and the sound of footsteps running.
Officers arrived quickly and detained two young men trying to exit the garage who matched the descriptions the caller gave.
Arrested were Michael Johnson and Jameson Chirinos Flores, both 18 and from Daly City. Each was booked on two counts of auto burglary and one count of conspiracy to commit auto burglary, all felonies.
Police offer this advice to deter car burglars:
• Never leave valuables behind. Thieves are known to walk by cars and look inside for valuables left in plain view. They will smash a window or open an unlocked door, and then quickly grab your belongings.
• Always lock the doors and roll up the windows.
• "Hiding" property in a trunk is not a safe practice either because some thieves will gamble that there are valuables inside and smash a window to push the trunk release and check.