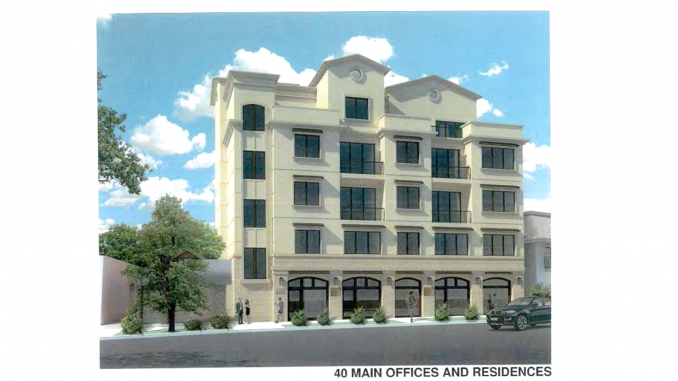 BY ALLISON LEVITSKY
Daily Post Staff Writer
A long-contested development panned by Los Altos residents as "horrendous" and an "atrocity" hit another speed bump last night, with City Council rejecting an appeal from property owners Ted and Jerry Sorensen.
The Sorensens are proposing a 66-foot building at 40 Main St. that would feature first-floor office space, four stories of apartments and two levels of underground parking.
Last night's (April 9) hearing did not address the project itself, but rather the Sorensens' pursuit of a "streamlined" permit under Senate Bill 35, a 2017 law that aims to encourage housing development by fast-tracking the permitting process for multifamily housing developers who meet certain objective requirements.
But the Sorensens' development doesn't meet those requirements.
SB35 grants developers a 35% density increase, but the Sorensens' project proposes an 87.5% density bonus. The project would normally be entitled to include seven apartments, but it's currently proposed to include 15.
Not enough parking
Plus, their application was incomplete, city officials said, and the project doesn't include the appropriate number of parking spaces for residents and guests.
City leaders said the project doesn't comply with downtown design guidelines: the building is designed at too large of a scale and needs to broken down into smaller visual components.
The project also exceeds the office-to-residential ratio required by SB35. The law requires that the building is at least two-thirds residential. Currently 54% of the 42,276-square-foot building's square footage is proposed to be residential.
The Sorensens' attorney, Daniel Golub of the law firm Holland and Knight, said that the building would meet the two-thirds ratio if the residential parking garage were included.
The state Department of Housing and Community Development agreed with that interpretation, Golub said, citing a letter he received from that department.
'Horrendous'
Several residents disparaged the development at last night's meeting.
"I would hope that they would consider the ruin, really, that their horrendous building would wreak on our downtown landscape," Sunkist Lane resident Maria Bautista said.
The Sorensens' development and the recent proposal for Bullis Charter School to take over the campus of Egan Junior High herald the "eve of destruction in Los Altos," Bautista said.
Friends of Los Altos President Jon Baer called the project an "atrocity" and quoted an unnamed FOLA member asking "WTF is wrong with these people? Tell them to go to another city."
The Sorensens first wrote a project plan for the development in 2007. It was previously proposed as a three-story office building with about 20 parking spaces in the basement, and included other proposals for one- and two-story alternatives.
In January 2018, a Santa Clara County Superior Court judge ordered the Sorensens to pay almost $2.7 million back to investors for negligently misrepresenting the project to investors.
The Sorensens told investors that the building could make between $8.9 million and $9.4 million and overstated how large the city would permit the building to be.
Former Mayor Ron Packard, who owns the building next door at 4 Main St. and has opposed the project for 12 years, said last night's vote was a "policy decision that should not be made by the Sorensens' self-serving interests."