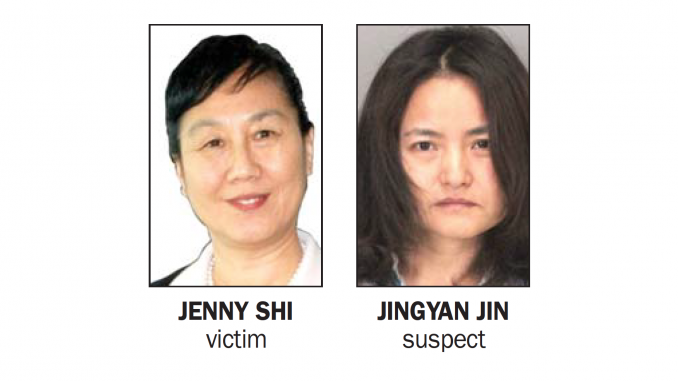 BY ALLISON LEVITSKY
Daily Post Staff Writer
A man who disappeared to China may have had something to do with the killing of Palo Alto resident Jenny Shi, according to new court documents.
Shi's sister-in-law Jingyan Jin, 43, of Palo Alto, is accused of stabbing Shi 41 times in July 2016. Jin has been awaiting trial in Santa Clara County Jail since her October 2016 arrest.
New leads in the case have pointed defense investigators to China, where further interviews with witnesses and obtaining documents from abroad may extend the investigation and delay Jin's trial.
Trial delayed again
Jin was set to go to trial last month, but on March 14, Deputy Public Defender Kelley Paul Kulick filed a motion to delay the trial again by several months.
According to Kulick, prosecutors have presented evidence that Jin committed prior violence and made threats while still in China.
Witnesses have also named a man who the defense describes as a "possible third-party culpability suspect." That man, who Kulick did not identify in her motion, returned to China shortly after Shi's killing and has changed his phone number.
Kulick said the defense has sought the cooperation of the Chinese embassy and investigators in China to interview that man and people who know him and his relationship to Shi.
The defense is also seeking to interview witnesses and obtain documents related to the alleged prior acts of violence and threats by Jin.
A witness with 'intimate knowledge'
And on Feb. 7, a witness with "intimate knowledge" of Shi and Jin emailed Kulick with new investigative leads for the defense.
That witness, Kulick said, has not been named in any police report or documents by the prosecution.
Kulick has sent this information to the judge along with its relevance to defense theories, but the information is under seal.
Jin grew up in China and lived there until 2011. Her family still lives in China.
Shi was found in a pool of blood in her bed at 317 Creekside Drive on July 7, 2016.
Prosecutors have alleged that Jin thought Shi had moved around assets and hid a large amount of money in anticipation of Jin's divorce from Shi's brother.
Jin's husband, James Shi, had started divorce proceedings in China. Jin is scheduled to appear in court on June 3.