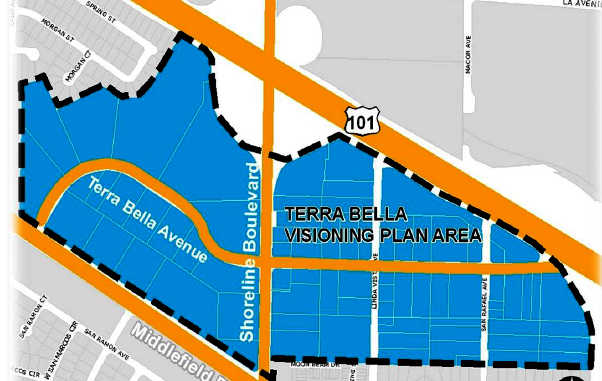 BY ALLISON LEVITSKY
Daily Post Staff Writer
A redevelopment proposal could bring thousands of new homes to Mountain View's Terra Bella neighborhood, the area surrounding Terra Bella Avenue between Highway 101, Highway 85, W. Middlefield Road and Crittenden Middle School.
The plan could include three-, five- and seven-story residential buildings with as many as 2,500 housing units along Terra Bella Avenue, W. Middlefield Road and Highway 101.
A number of neighbors raised concerns about tall apartment and office buildings being allowed next to single-family homes.
City planners last night (April 2) showed the City Council two maps with different configurations for the area. One has 2,500 housing units and 1.6 million square feet of commercial space, including four- and six-story office buildings, two-story light industrial and office buildings and a seven-story hotel.
The other has 1,700 housing units with 1.7 million square feet because some residential space was changed to light industrial.
Council members John McAlister, Margaret Abe-Koga and Lisa Matichak spoke in favor of the second option, with more residential buildings limited to three or five stories.
Councilman Chris Clark said he liked the idea of the option with more housing units, but said he didn't oppose the second option.
Abe-Koga said "it's about quality, not quantity."
Councilman Lucas Ramirez pointed out that re-zoning light industrial areas could push small businesses out of Mountain View in favor of office buildings occupied by big companies.
There are 63 businesses classified as "light industrial" in Terra Bella, according to the city's business license database.
The median commercial rent citywide is $36 per square foot per year. In Terra Bella, that number is $28.
"When we rezone light industrial areas, they're not going to come back," Ramirez said. "There's a lot of value in having an area that has lower commercial rents."