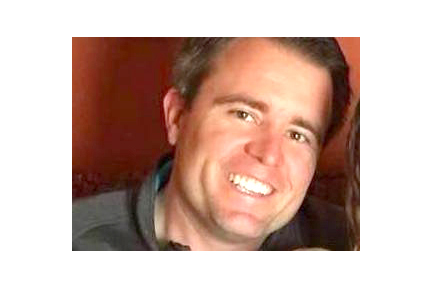 BY EMILY MIBACH
Daily Post Staff Writer
The District Attorney decided yesterday (March 20) that two Redwood City police officers will not face criminal charges for shooting Palo Alto teacher Kyle Hart on Dec. 10. But Hart's widow yesterday criticized how officers respond to people having a mental crisis.
"While the use of lethal force was deemed justified by the DA, the inadequacy of scene management and accessibility of other de-escalation options and equipment must be addressed," Kristin Hart wrote on the GoFundMe page set up for her and her two young children. "Shots were fired within a minute of police arrival on scene. Officers did not attempt to de-escalate the situation or wait for the beanbag shotgun that arrived two minutes later."
What exactly caused Hart, a teacher at Frank Greene Middle School in Palo Alto, to attempt suicide before the police arrived is not clear, said San Mateo County District Attorney Steve Wagstaffe.
Kristin Hart had told the District Attorney's investigators that her husband had been more anxious than usual because of their daughter being born three days earlier and their purchase of a "fixer-upper."
She said her husband appeared to be a "bit more absent minded than usual."
Wagstaffe released a letter yesterday that he sent to Redwood City Police Chief Dan Mulholland saying he won't charge the two officers. In the letter, he described the events of Dec. 10.
It began with the Harts planning their day over breakfast. Kyle Hart had read a book to their 2-year-old son and talked to his father on the phone.
Cutting his own throat
Shortly before 8:45 a.m., Kristin Hart walked into the kitchen after calling her husband a couple of times and not getting a response. When she entered the kitchen, she saw her husband in the process of cutting his own throat, according to Wagstaffe.
She tried to wrestle the knife away from her husband, but slipped, and Kyle Hart dropped the knife, picked up a bigger one, and went outside where he continued to cut himself.
Officers Roman Gomez and Leila Velez arrived at the Hart's home at 450 Lincoln Ave. in Redwood City at 8:47 a.m.
Kristin Hart told the officers that Kyle Hart was in the back yard area.
Velez was armed with her Taser while Gomez had his gun out. The two encountered Hart in the backyard.
"Gomez immediately ordered Hart to 'drop the knife, drop the knife,' but Hart 'just stared at him' and he did not comply. Instead, he raised his right arm to shoulder height, with the blade pointing toward the two officers and began moving toward them," Wagstaffe wrote.
Velez attempted to use her Taser, but as Hart was moving toward them, only one prong hit him in the face, and did not shock Hart.
At this point, Hart was moving closer to the officers, and when he was about eight feet away from the officers, Gomez shot at Hart five times, hitting him three times in the chest, Wagstaffe said.
Only 43 seconds elapsed between the time when officers arrived and when Hart was shot, according to Wagstaffe.
Police didn't have cameras
Redwood City Police Officers do not have body cameras, so the only video footage the DA's office could watch was from a surveillance camera from across the street and a one minute and 28 second video recording taken on a neighbor's phone.
The surveillance camera footage shows the front of the Hart's home, but the incident itself, which occurred in the home's side yard, can only be heard on the video.
The phone footage taken by a neighbor only shows Kristin Hart yelling for help and police arriving on scene.
The county coroner's office determined that Hart died due to the gunshot wounds. However, the multiple cuts to Hart's throat and arms contributed to his death, but was not the cause of death.
Hart's death was the fourth death involving police in a year. The three other deaths — in Redwood City, Millbrae and Daly City — occurred after the men had been stunned multiple times with a Taser.
Previous deaths
Kristin Hart, on her GoFundMe page, noted that Hart was the fourth person since March, 12, 2017, to have died at the hands of Redwood City officers.
On March 12, 2017, Robert Lee Eichen was shot by an officer as he attempted to commit suicide.
On Dec. 30, 2017, Marco Carlos was shot multiple times outside of the Wells Fargo bank after threatening officers with a gun.
On Aug. 13, Ramzi Saad died after being stunned with a Taser by Redwood City police officers following a domestic dispute.
"We believe that it is time that our city invest to improve and make readily available updated Tasers, body cams, beanbag shotguns in every car, and review protocols related to scene management (during and after incidents) to protect and serve the citizens of this community," Kristin Hart wrote.
Both officers Velez and Gomez were trained to intervene in crises.
Wagstaffe praised their conduct in his letter.
"The death of Hart is a tragic outcome for his family and the community, but it is my belief that both officers conducted themselves in a professional, reasonable and proper manner and to the last moment sought to avoid the very result caused by the conduct of Hart," Wagstaffe wrote.
Help available
There are many resources available 24 hours to anyone in crisis, including the National Suicide Hotline at (800) 273-8255 and Suicide Prevention of San Mateo County at (650) 368-6655. The Santa Clara County Suicide and Crisis Hotline is available in English and Spanish at (855) 278-4204.