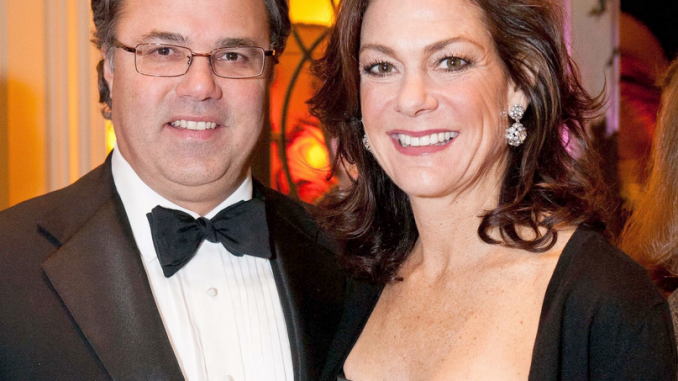 UPDATE, 4 p.m., March 13 — Hercules Capital, a Palo Alto hedge fund, announced today (March 13) it was replacing its leader, Manuel Henriquez, who has been arrested in New York City and released on $500,000 bail. Henriquez will still hold a seat on the board and serve as an adviser, Hercules said.
Henriquez and his wife, Elizabeth, of Atherton, were charged with participating in the scheme on four occasions for their two daughters. They were also charged with conspiring to bribe Gordon Ernst, former head tennis coach at Georgetown University, to designate their older daughter as a tennis recruit to facilitate her admission and with making a $400,000 contribution to a charity to help her get accepted to the school.
Georgetown said he hadn't coached there since December 2017 after an investigation found he violated university admissions rules. The University of Rhode Island says Ernst, who was hired as head women's tennis coach in August, was placed on administrative leave.
In a Manhattan courtroom this morning (March 13), Manuel Henriquez shook his head repeatedly in court, the Associated Press reports. Elizabeth Henriquez appeared distressed, repeatedly running her hands through her hair.
ORIGINAL STORY, MARCH 12
BY ALLISON LEVITSKY
Daily Post Staff Writer
The daughter of an Atherton CEO took the SAT in a private room at Notre Dame High School in Belmont while sitting next to a paid-off proctor, who gave her the answers and later "gloated" with the teen and her mother about getting away with cheating, according to a federal indictment unsealed yesterday.
The now-20-year-old woman, a Georgetown University junior and investment banking intern, is one of several students from the mid-Peninsula, including her younger sister, whose wealthy parents were charged yesterday for allegedly paying a scammer tens of thousands of dollars to have proctor Mark Riddell help their child with the SAT or ACT in a private classroom.
The alleged cheating earned her an SAT score of 1900 out of 2400, an improvement of 320 points over her best legitimate score, according to an indictment document from federal prosecutors.
The woman's father, Manuel Henriquez, 55, is the CEO of Palo Alto-based Hercules Technology Growth Capital.
He and his wife, Elizabeth Henriquez, 56, were both charged yesterday with conspiracy to commit mail fraud and honest services mail fraud. Hercules Capital's stock price dropped 8.92% yesterday.
According to the indictment from the Department of Justice, the Henriquezes paid alleged scammer William "Rick" Singer $25,000 in the fall of 2015 to have Riddell proctor their daughter's SAT and correct her answers.
Tennis credentials exaggerated
The Henriquezes also paid Singer $400,000 in May 2016 after he allegedly asked Georgetown tennis coach Gordon Ernst to designate their older daughter as a tennis recruit. She allegedly overstated her tennis accomplishments on her college application, falsely claiming to have played "club tennis" all through high school for 20 hours per week and 52 weeks per year.
She falsely claimed to have a "top 50 ranking" in the U.S. Tennis Association and to have been on the association's all-academic team for tennis for her junior and senior years.
Ernst signed off on her application and Singer paid him a total of $950,000 between September 2015 and November 2016, according to the indictment.
In September 2015, Riddell told the woman's high school counselor in an email that he was willing to fly from Tampa, Fla., to San Francisco to proctor her exam "because my wife has a newborn."
"I would really appreciate the opportunity to proctor the test because I'm applying to grad schools and I could quite frankly use the work," Riddell wrote.
The counselor responded, "I have you set up to proctor and read for (the Henriquezes' daughter) this coming Saturday, Oct. 3, at 8 a.m."
Singer then forwarded the email to Elizabeth Henriquez with the note, "(Riddell) has the testing covered."
In November 2015, the Henriquezes wired $15,000 to Singer's personal bank account and $10,000 to an account in the name of his nonprofit organization, the Key Worldwide Foundation.
Singer then wired $10,000 of the payment to Riddell, according to the indictment.
A second daughter
The following year, the Henriquezes allegedly did business with Singer and Riddell again to help boost their younger daughter's ACT score.
In September 2016, Elizabeth Henriquez is accused of lying to the girl's high school counselor that her daughter wanted to take the ACT on Oct. 22, 2016, but that "we have to be in Houston" on that date.
"Through connections there, we have been able to secure a site and a proctor to test (my daughter) for the two days," Elizabeth Henriquez wrote.
The counselor responded, "No worries — thank you for letting me know," and Elizabeth Henriquez forwarded the email exchange to Singer.
Riddell then flew from Tampa to Houston for the exam, which he purported to proctor for the younger Henriquez girl and another student.
He told law enforcement agents that he discussed the answers with the two students but directed them each to answer different questions incorrectly to conceal their cheating from ACT.
The younger Henriquez daughter received a score of 30 out of 36 on the ACT, and Singer paid $50,000 to Martin Fox with the understanding that part of the money would be paid to Houston Test Center administrator Niki Williams.
Singer paid Riddell $20,000 for the proctoring.
Singer initially wanted to charge Manuel Henriquez $75,000 for the ACT scheme, but told law enforcement that instead, Henriquez agreed to use his influence at Northeastern University, his alma mater, to help Singer get another teen accepted to that school.
Manuel Henriquez allegedly emailed a senior development officer at Northeastern to describe the applicant as an "excellent candidate for the College of Social Sciences and Humanities."
"Just confirmed with the university, have (the applicant) file (early decision through) normal channels to get into the systems and make sure his application is complete," Manuel Henriquez then wrote to Singer. "Then the folks I connected will flag it."
A week later, the applicant met Manuel Henriquez in Atherton. Henriquez wrote to Singer, "I liked him very much, and just informed the school according(ly). It is now in their hands, and they understand he is looking for (early decision), and I will reinforce early next week."
Henriquez then repeatedly followed up with Northeastern officials about the applicant's candidacy. The teen was ultimately admitted to Northeastern, and his parents paid Singer $250,000.
Another fake proctor
In 2017, Singer met with the Henriquezes at their home in Atherton, where they paid him between $25,000 and $30,000 in cash to arrange for another fake proctor to help their younger daughter cheat on three SAT subject tests and the ACT.
The younger daughter took the SAT subject tests at the West Hollywood College Preparatory School in June 2017, where she received help on the tests from a paid-off proctor. Singer paid the school's director, Igor Dvorskiy, $40,000 and paid $6,000 to the proctor.
The alleged cheating earned the teen a score of 33 out of 36 on the ACT and scores of 720, 740 and 770 out of 800 on the SAT subject tests for math, Spanish and history.
Singer has cooperated with the investigation in hopes of a lenient sentence. He pleaded guilty yesterday to four charges and is free on $500,000 bail. Sentencing is set for June 19.
Riddell agreed to plead guilty to three charges.