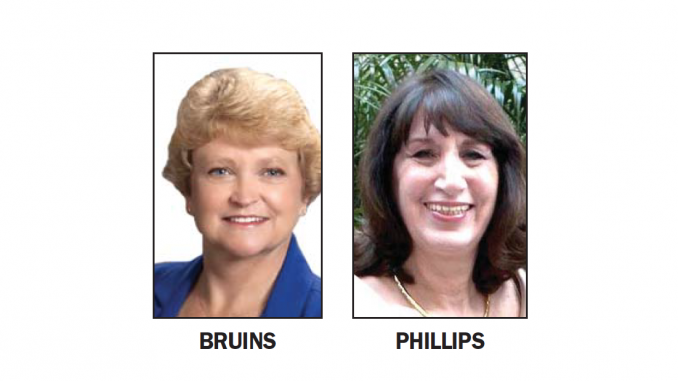 BY ALLISON LEVITSKY
Daily Post Staff Writer
A bizarre situation at Los Altos City Council has pitted Councilwoman Jeannie Bruins' asthma against the cigarette habit of one of her political rivals, regular council observer Roberta Phillips.
Bruins, who did not return a request for comment, missed most of the two-day annual council retreat last month, which was held in the council chambers at City Hall.
Bruins left partway through the first day, Jan. 18, when she started losing her voice and couldn't breathe properly.
The next day, Bruins arrived at the meeting but said she was too sick to enter the building, so council rescheduled it for a larger and better-ventilated room, Hillview Community Center, on Jan. 27.
But Bruins didn't attend that day either, citing medical reasons, and also didn't participate over the phone.
Phillips, 72, said that after Bruins complained of her symptoms on Jan. 18, City Attorney Chris Diaz approached Phillips and asked her to leave the meeting.
"I said to him, straight out, 'Hey Chris, under the constitution of the United States I have the right to speak at a meeting and under the Brown Act (the law requiring open meetings), I have the right to attend any meeting that I want to,'" Phillips said.
Diaz, who didn't return a request for comment, immediately agreed and said Phillips had the right to attend the meeting, Phillips said.
Phillips said she was sitting as far away from Bruins as possible, in the back of the council chambers, and never smokes on the 18-acre Hillview campus where the council chambers are located. She's been speaking at council meetings where Bruins has been on the dais for years.
Phillips also bathes and washes her hair before leaving the house to remove any smell of smoke, she said.
Bruins wore a mask
Councilwoman Neysa Fligor said it was obvious that Bruins was experiencing symptoms at the retreat. Her face was red and she could barely talk, and she wore a mask for a while, Fligor said.
Mayor Lynette Lee Eng said that she was surprised that Bruins not only didn't attend the rescheduled retreat on Jan. 27, but also didn't participate over the phone. Lee Eng saw Bruins at a Silicon Valley Leadership Group event at the LinkedIn campus in Mountain View two days before.
"I'm surprised this has become an issue," Lee Eng said. "I think it's unfortunate because (Phillips) has been a major participant at meetings."
In skipping the Jan. 27 meeting, Bruins missed the chance to weigh in on the council's priorities for 2019, but Councilwoman Anita Enander pointed out that Bruins would still get a chance to provide feedback on them when council approves them at an upcoming meeting.
Smoking ordinance
Phillips said she felt that Bruins was targeting her personally, and pointed out that Bruins spent four years serving on council next to Mayor Jean Mordo, a regular cigar smoker.
Phillips said she believes the city's 11-month-old ban on smoking in almost all public places "absolutely, positively" was targeting her.
"They didn't have a smoking problem in the first place," Phillips said. "It had to do with Jeannie being vindictive toward me."
Phillips noted that when that ordinance was nearly extended to include public areas of condominium and townhouse complexes, she joked to Mordo that she was going to stake out his condo and wait until she saw him light up a cigar, then call the police on him.
When Lee Eng and Bruins visited the Post's office in 2016 for their candidate interviews, Phillips was in attendance as Lee Eng's campaign manager.
Bruins said she didn't want Phillips in the conference room, citing her sensitivity to cigarette smoke, so Phillips didn't sit in on the interview.
"Jeannie's been pretty angry at me because I was supportive of Measure C," Phillips said, referring to the ballot measure that would have made it difficult for the council to sell or lease city-owned land. "Her anger comes out in really strange ways."
Other explanations
Lee Eng, who also suffers asthma, said she sometimes has to use her inhaler when she sits in the audience of the council chambers to attend commission meetings. It's possible that the chambers' new carpet, or the glue used to affix it to the floor, could be an irritant, she said.
Ultimately, city officials are in the tough spot of trying to accommodate Bruins' condition while maintaining meetings that are open to the public.
"I don't feel that one has precedence over the other. We all have the right to be present at meetings," Lee Eng said.