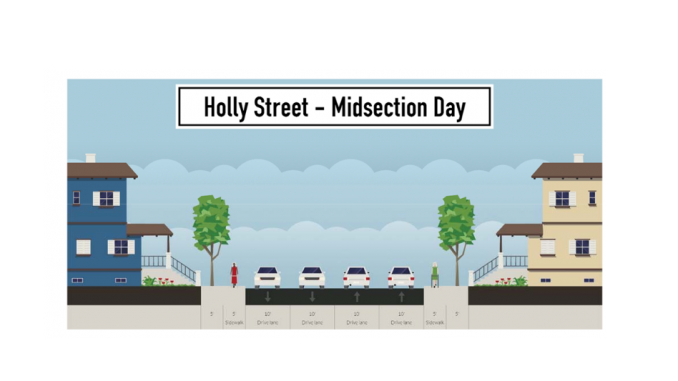 BY EMILY MIBACH
Daily Post Staff Writer
The San Carlos City Council on Monday (Feb. 25) will consider whether Holly Street ought to become two lanes again or make the street wider by moving the sidewalks back into residents' front yards.
The city has been attempting to come up with ways to improve safety for pedestrians along Holly Street ever since it took away daytime parking in 2014, which widened the street.
After the street was widened to four lanes of traffic, residents began to complain about cars speeding down Holly, endangering residents and pedestrians.
So for the past two years, the city's public works department and the Transportation and Circulation Commission have been looking into two options:
• A road diet — where the road would go from four lanes of traffic to two lanes — one in either direction. Overnight parking on the sides of the street would be removed, a center two-way left turn lane would run down the middle of the street, and trees and grass would be planted between the lanes and the sidewalk.
• Move the sidewalk back five feet and plant grass and trees where the sidewalk once was. The overnight parking would remain.
Road diet's drawbacks
However, a report (beginning on PDF page 67) from Public Works Director Steven Machida recommended that the city not do the road diet because reducing the lanes on Holly would slow traffic down and add congestion, potentially backing traffic up on the freeway.
But residents are against the sidewalk-moving option, since it may encroach on their front yards, despite the five feet being within the city's right of way. According to Machida's report, the transportation commission felt it could not make a recommendation to council one way or the other because of the problems with both options.
The commission suggested doing another study. But Machida said in his report that another study doesn't change the fact that there is only so much roadway the city can work with.
Another option: Wait
Machida recommended that the city wait until residents are willing to give up five feet of their front yards.
However, last time the city had to make changes to Holly Street, residents filed a lawsuit against the city. In 2014, residents sued, saying that the council violated state law when it voted to remove parking from in front of homes during the day on Holly Street. The changes went though anyway, and today you cannot park along Holly Street from 7 a.m. to 6 p.m.
City Council meets on Monday (Feb. 25) at 7 p.m., 600 Elm St.