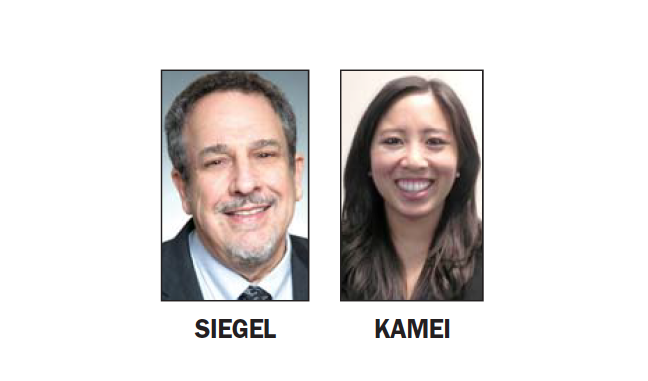 BY ALLISON LEVITSKY
Daily Post Staff Writer
Four of the seven members of Mountain View City Council want to roll back an ordinance allowing four marijuana businesses, which led to a confrontation at a ceremonial ribbon-cutting event yesterday (Feb. 13).
Councilwomen Ellen Kamei, Alison Hicks, Mayor Lisa Matichak, Vice Mayor Margaret Abe-Koga and are seeking to change the rules of a permitting process that is already underway to reduce the number of businesses allowed from four to two.
City planners are currently reviewing the 10 applications that were submitted by the Feb. 1 deadline, and will randomly select two qualified retail businesses and two non-retail businesses to submit permit applications late next month.
Mayor Lenny Siegel, who lost his reelection bid in November, said he disagreed with the decision to consider rolling back the new marijuana ordinance when Hicks and Kamei didn't say they wanted to do so while running for office last year.
The former mayor even approached Kamei at the Stevens Creek Trail ribbon-cutting yesterday to express his disapproval about bringing the item back.
Disagreement about whether Siegel yelled
Abe-Koga claimed that Siegel had "started yelling at her, 'What did you do last night? That's not what the voters wanted.'"
Kamei declined to comment on the brief conversation, but both Siegel and former Mayor Pat Showalter, who observed the interaction, said Siegel didn't yell.
"I said something like, 'I'm disappointed because you didn't campaign on this issue,'" Siegel told the Post. "I made it clear I didn't like it, but it was, like, one sentence and then I moved on."
Showalter, who also lost her reelection bid in November, said Siegel had "asked (Kamei) in a firm tone" about her proposal. But he didn't yell, Showalter said.
"I would say that maybe it was 30 seconds," Showalter told the Post. "She was, I think, a little taken aback that he asked her that directly."
In response, Kamei said something similar to "we're bringing it back to council to reconsider," Showalter said.
Showalter said she thought the council developed a good ordinance in October and that the businesses would be a good way to bring in tax revenue. In November, voters approved a 9% tax on marijuana sales.
Abe-Koga, meanwhile, disparaged Siegel for involving himself in the issue after losing his seat on council.
"(He) lost and Ellen won," Abe-Koga said. "He wouldn't mind seeing a cannabis shop on every block on Castro Street."
Siegel, said yesterday that marijuana is "ubiquitous" in Mountain View and is used by "many moral, productive people here." Abe-Koga and Matichak would ban the businesses altogether if they could, Siegel said.
"I found that most Mountain View voters want a legal way for people who want to buy or use marijuana to do so," Siegel said. "No one's forcing anybody to buy marijuana."
The decision to revisit the ordinance came at the end of Tuesday night's council meeting. Kamei polled her colleagues on whether they'd be willing to discuss amending the ordinance at a later date.
The council wasn't allowed to discuss any specific proposals on Tuesday because the item wasn't on that night's agenda.
But Kamei, Matichak, Abe-Koga and Hicks said they would want to discuss the ordinance again before the end of next month, when city planners are set to randomly rank the 10 applications, giving two retail stores and two non-retail businesses the chance to apply for a permit.
Complaints from Chinese parents
The three councilmen — John McAlister, Chris Clark and Lucas Ramirez — said they wouldn't want to discuss the ordinance again, indicating that they wanted the permitting process to move forward as is.
Abe-Koga and Matichak told the Post yesterday that they had heard complaints from residents about the marijuana ordinance. In October, dozens of largely Chinese parents spoke at City Council to voice their opposition to the sale of marijuana in Mountain View, particularly anywhere that children would notice the stores.
The ordinance bans stores from advertising their products outside or through windows. Patrons have to scan their ID to prove they're over 21 before they can get past the stores' waiting room-style lobbies.
At that October meeting, Matichak and Abe-Koga advocated for only allowing two businesses, but were outvoted by the five council members who wanted to allow four businesses.
Now, Kamei, Abe-Koga and Matichak say they want to change the ordinance to exclude the San Antonio area, where the Los Altos School District is planning to buy land to build a new elementary school.
But none of the 10 applications sent to the city by the Feb. 1 deadline named locations anywhere near the San Antonio area.
Four are looking at spaces downtown, two on El Camino Real south of Rengstorff Avenue, one at Moffett Plaza and two between E. Evelyn Avenue and Highway 237.
Kamei said she would also consider increasing the 600-foot buffer that's currently required between any pot businesses and schools and child care centers.
Another possibility would be a pilot program, she said, where businesses could receive permits to operate on a temporary basis.
Abe-Koga and Matichak both said they also wanted to roll back the number of businesses to one store and one non-retail business.
Downtown pot shops
They also said they wanted to look at excluding downtown from the allowable locations for pot stores.
"I feel like I've heard from the community that they would prefer to not have shops in the downtown area, that it's more of a family-friendly area, and so they'd prefer that if we're going to have them, to have them elsewhere," Matichak said. "We do have some nightclubs (downtown), but those, I would say, get rowdy usually when a family is not walking by for dinner."
Kamei said she was open to a discussion about both rolling back the number of businesses and banning them from downtown. Siegel questioned whether it would be legal for Abe-Koga and Hicks to vote on a proposal to exclude pot stores downtown because both live in the area.
"I think it's pretty clear that if indeed the restriction was within the downtown precise plan, I don't know how they modify that with the votes they have," Siegel said. "They could vote to say one storefront citywide or zero storefronts citywide, but it's my understanding they couldn't vote against having them downtown."
Three businesses have applied to open retail shops on the 200 block of Castro Street and a fourth, Culver City-based MedMen Enterprises, is seeking to open its first Northern California location around the corner at 660 W. Dana Street.