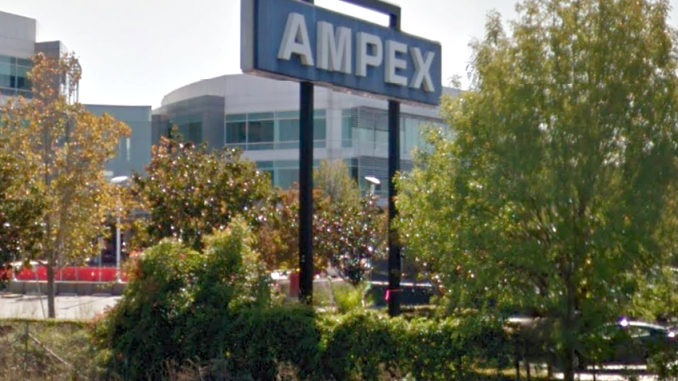 BY EMILY MIBACH
Daily Post Staff Writer
A Redwood City councilwoman and some former Ampex employees are working to memorialize the videotape machine company, and perhaps find a new home for the blue and white sign that was once a landmark along Highway 101.
After the sign came down in August as part of Stanford's campus expansion in Redwood City, Mayor Ian Bain and councilwoman Janet Borgens began to look for a new place to put it.
While Borgens hasn't found a home for the sign, she has found a community of Ampex fans and former employees who feel passionate about preserving the memory of the ground breaking company that was headquartered in Redwood City.
Borgens, former Ampex employee Bob Wilson and a group of eight or so others are working with the San Mateo County History Museum to create a memorial for the company that began in 1944 in San Carlos by electrical engineer Alexander M. Poniatoff.
"This started with a sign and the fact that it was coming down. And as long as that sign was up, those who remembered (Ampex) knew it existed, but now that it's gone, people forget," Borgens said. "I want to get these stories now, because once they're gone, they're gone, and we don't have that history anymore."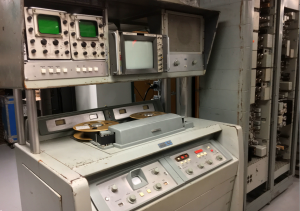 At Ampex, the first videotape recorder was manufactured in 1956, which was a revolutionary device for the television industry. Before videotape, all shows had to be performed live or filmed for broadcast later.
"The story of Ampex is a rich one, with some of the earliest achievements in Silicon Valley before Silicon Valley was even called that," Wilson said.
Borgens and Wilson are also working with Stanford, who have a lot of Ampex items that the company donated to the university when it moved from Redwood City to Hayward. They said they want to feature Ampex technology at the history museum once the exhibit, which will be permanent, is set up.
Lessons from Ampex
"The stories (from Ampex workers) are enormously representative of today's technology, and Ampex had a finger in pretty much all of what we touch today," Borgens said. "We need to value that and celebrate it and teach it to kids."
Wilson worked at Ampex in the 80s. He said it was an incredible place to work. He recalled that Ampex managers encouraged employees to fiddle around with things in their free time in hopes they may create something new.
Ampex once employed Ray Dolby of Dolby Laboratories, Atari co-creators Ted Dabney and Nolan Bushnell, Oracle co-founder Larry Ellison and Tom Porter — a computer scientist and one of the creators of Pixar. They and others helped pave the way for the area to become Silicon Valley.
"Fortnite would not be here it if weren't for Ampex," Wilson said.
As for the beloved sign, Borgens said she is working with the museum and Stanford to possibly find a way to display it in the exhibit.
The sign still exists, it's just in storage, Borgens said.
Stanford officials have refused to say why they had the sign removed. It wasn't replaced with another sign and it didn't take up any parking spaces.
As to when the exhibit will be installed at the museum, Borgens and Wilson aren't sure.
They're just about to start fundraising to assemble the project. Wilson said they hope to raise some $350,000 to get the project stated.
Related to this story
• Aug. 17, 2018 — Dave Price column: A piece of Silicon Valley history disappears