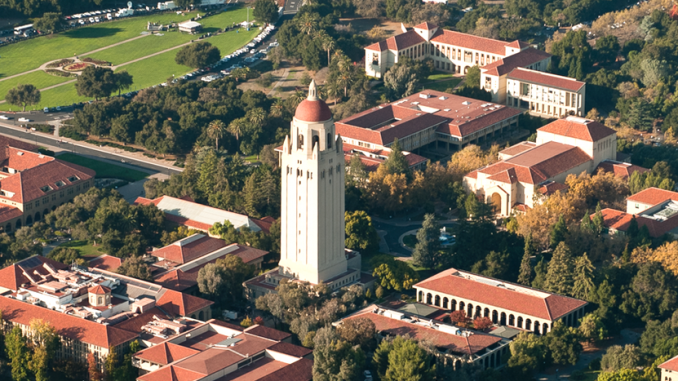 BY ELAINE GOODMAN
Daily Post correspondent
The city of Palo Alto may seek $82 million in affordable housing funds from Stanford, along with money for bridges to separate the Caltrain tracks from the street, in connection with the university's proposed 3.5 million-square-foot expansion.
Although those items are toward the top of the city's possible requests when it comes to Stanford, the list doesn't stop there. The city might also want Stanford to chip in toward the cost of a traffic roundabout at Interstate 280 and Page Mill Road — a project that's included in Santa Clara County's Page Mill Road study.
And even though Stanford has already offered to give the city $375,000 to spend on the four parks in the College Terrace neighborhood, Palo Alto might ask for an additional annual contribution from the university for park maintenance.
Meeting tonight (Feb. 4)
The City Council will discuss what to include on its Stanford wish list tonight (Feb. 4).
The requests are being discussed as Santa Clara County is about to start negotiating with Stanford over a development agreement for the university's expansion plans through 2035. Stanford wants to build 2.275 million square feet of new academic space, 2,600 additional student beds and 550 new housing units for faculty and staff, for a total expansion of 3.5 million square feet.
Development agreements typically grant certain development rights in exchange for an agreed-upon package of public benefits. The county has asked the public and other agencies to weigh in on the development agreement.
City Manager Ed Shikada said that in drawing up a wish list for the council to consider, the focus was on impacts of Stanford's development to the city, as well as items that would benefit both the city and the university. So a top tier of potential requests includes a $1 million contribution from Stanford to the city for drawing up a downtown area plan, which would look at train bridge alternatives at Palo Alto Avenue, changes to the Caltrain station to accommodate train electrification, and improvements to benefit pedestrians and bicyclists at the station.
The city might also look to Stanford to help pay for projects to come out of the downtown plan, potentially including a train bridge at Palo Alto Avenue. Funding from Stanford for a train bridge at Charleston Road is another potential wish-list item.
Money for housing
An $82.4 million contribution to the city's affordable housing fund is also in the top tier of the proposed wish list, as are upstream stormwater detention basins to reduce the risk of flooding. Palo Alto might also decide to ask Stanford for a long-term commitment not to develop in the foothills, through the year 2100 for example.
There's also a lower tier of requests the council will consider, including the contribution to College Terrace parks maintenance; a city-Stanford partnership to enhance shuttle bus service; and improvement to Bol Park path, which is described as a key connection from the university to Stanford Research Park.
But in a report to the council, Shikada seemed to be discouraging council members from acting like kids in the proverbial candy store.
"The more requests made of Stanford, both the university and the (county) supervisors may be unwilling to accept or advance those interests," he wrote.
In addition, he noted, other jurisdictions are likely to be making their own requests in connection with the development agreement.
Development agreements are voluntary contracts, and it's possible the county and university won't be able to reach an agreement. In that case, Stanford's 2018 General Use Permit application would still be considered by the board of supervisors, according to a county website explaining the process for Stanford's development agreement.
If the General Use Permit were approved, the county would likely add a list of conditions for Stanford's expansion.
The Palo Alto council will also discuss tonight what those conditions should include. One suggestion from the city manager is a contribution from the university for a roundabout at Page Mill Road and Interstate 280.
Another suggestion is requiring Stanford to build housing before academic space is expanded, based on the housing need the new square footage will generate.
Asking Stanford to create a traffic management plan for special events is another idea.
Stanford's lawsuits against county
Perhaps casting a shadow over the development agreement negotiations is legal action that Stanford has taken against the county. The university filed state and federal lawsuits on Dec. 20 challenging a new Santa Clara County ordinance that requires the university to build a certain amount of affordable housing if it expands. The university says the ordinance is unfair because it applies only to Stanford.
Meanwhile, Palo Alto officials remain concerned that an environmental report for Stanford's 2018 General Use Permit doesn't fully address the proposed expansion's impacts, which could include increased traffic congestion and demand for public services.
The city plans to send a letter to the county expressing its concerns.
In his report to the council, Shikada said he's looking to "preserve the city's options should the DA (development agreement) negotiations fail to produce results that fully mitigate impacts of the proposed development."