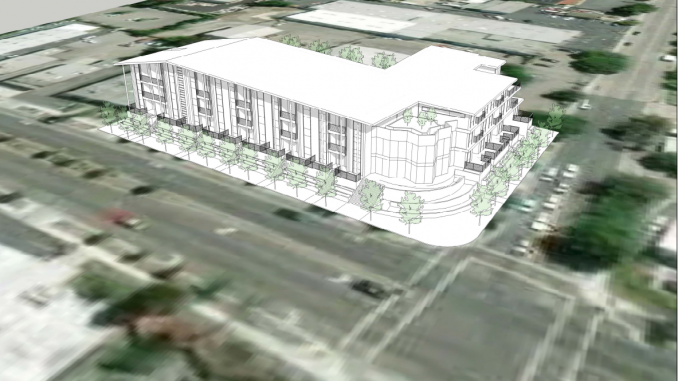 BY ALLISON LEVITSKY
Daily Post Staff Writer
As housing advocates bemoan the slow pace of high-density homebuilding in Palo Alto, a four-story apartment building with 48 one- and two-bedroom units could be on its way to San Antonio Road.
A developer is seeking City Council input on Sept. 17 on rezoning the 1-acre property at 788-796 San Antonio Road at Leghorn Street to accommodate a 46,000-square-foot apartment building.
That works out to each apartment being less than 1,000 square feet.
The two lots are currently home to Mechanica Automotive and the martial arts center Studio Kicks Palo Alto.
The building would include 115 underground parking spaces, leaving about 2.4 spaces per apartment.
The building would include six below-market-rate units per Palo Alto's law mandating that developers include 15% affordable homes. Five of the six would be reserved for low- and very low-income residents.
In addition, the developer is also seeking a density bonus to bump up the total number of units allowed by 20%, or eight units, for a total of 48.