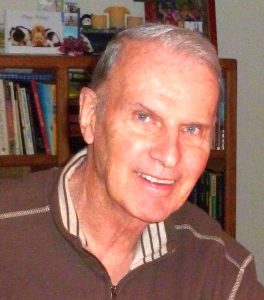 On Thursday, December 27th, 2018, David William Camp died peacefully at his Sunnyvale home after a long illness. He was 89 years old.
Dave is survived by Jan Camp, his beloved wife of 67 years, three sons, Mark (Fulvia), Eric, and Steven Camp, ten grandchildren and three great grandchildren. He was predeceased by his son Bryan, and sisters, Shirley Allen and Connie Potts.
Dave was born in Montreal, Canada and later relocated with his family to Illinois. He and Jan met at Monmouth College, and married in 1951.
After graduation, Dave served in the U.S. Air Force during the Korean War, analyzing aerial surveillance photographs while stationed outside Spokane, WA. Moving to Sunnyvale in 1962, he started as a financial analyst with Philco-Ford, working there until retirement when the company's name was Ford Aerospace. As a father of four active sons, he took pleasure in coaching Little League and being a Cub Scout leader. He was also a keen history buff, avid reader, world traveler, and military model hobbyist.
A service was held on Wednesday, January 2nd, 2019. Anyone wishing to make a memorial donation in Dave's name may send it to St. Thomas Episcopal Church at 231 Sunset Avenue, Sunnyvale, CA 94086, Tel: (408)736-4155.