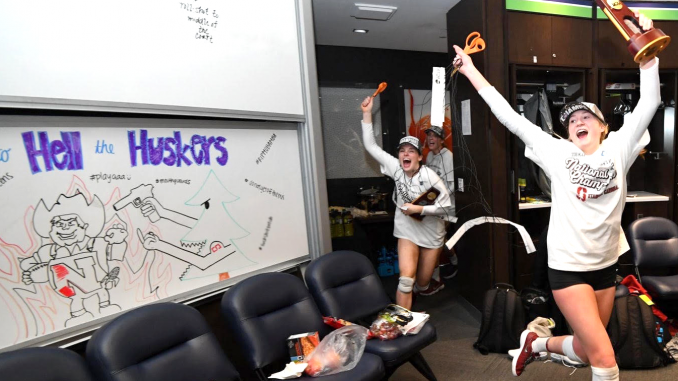 From staff and wire reports
Stanford's NCAA-record eighth national volleyball title was overshadowed Sunday by an apology the school's athletic director issued for a drawing on a whiteboard in the team locker room.
The drawing depicted Stanford's tree mascot pointing a gun and flipping the bird toward Nebraska's Huskers mascot as players jubilantly entered the room on Saturday night at the NCAA championships in Minneapolis.
A photo of the scene was tweeted by @NCAAVolleyball and then deleted. But others picked up the photo, and it went viral.
That prompted Stanford Athletic Director Bernard Muir to issue an apology:
"The image in the background of the picture is unacceptable and does not reflect the values of Stanford University," Muir wrote. "We have reached out to our colleagues at Nebraska to express our sincerest apologies to the university and its women's volleyball program. We regret detracting from what was otherwise a great night for the sport of women's volleyball."
Reaction on social media by Nebraska fans was mostly hostile, though some said that people were overreacting to the photo.
"I don't think there are any drawings in Nebraska's locker room of Stanford players getting shot by Herbie," wrote @CrooksSteve.
Wrote another Nebraska fan, @jjrocke, "It's not a great look for Stanford, especially in an environment where everyone calls foul on poor choices of words and images. The AD's apology is appropriate, but if there is someone responsible, it's the head coach. He owns the locker room."
A Nebraska Athletic Department representative said the school had no comment.
In the championship match, Kathryn Plummer finished with 19 kills and 10 digs, Morgan Hentz had a career-high 32 digs and freshman Holly Campbell added a career-high 15 kills for the Cardinal in a five-set victory over the Huskers.
"They put up an amazing fight," Plummer said.
"I don't know that I've been part of a match that was more interesting, more hard-fought," said Cardinal coach Kevin Hambly, whose team's record this season was 34-1.