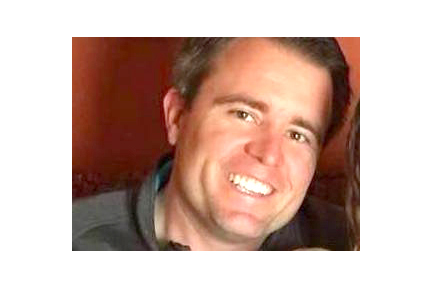 BY EMILY MIBACH
Daily Post Staff Writer
The Palo Alto school district community is rushing to support the family of Kyle Hart, the teacher killed by a Redwood City police officer after he allegedly charged at officers with a butcher knife while attempting to commit suicide.
Hart, 33, of Redwood City, a teacher at Greene Middle School in Palo Alto for three years, was respected by board members, fellow teachers and students alike.
Before he arrived at Greene (formerly Jordan Middle School), Hart taught at JLS for five years. He received his teaching degree from UC-Santa Cruz, according to family friend Jen Koepnick, who set up a GoFundMe account to raise money for the Hart family.
Hart leaves behind his wife, who is also a teacher, a 2.5-year-old toddler and a baby born on Saturday, just two days before his death.
"Kyle was a caring, thoughtful and trajectory-changing teacher," wrote school board member Melissa Baten-Caswell on the GoFundMe site.
"It was such a pleasure working with Kyle at JLS. He was a wonderful teacher and human being who will be deeply missed. Sending love to his family and friends," wrote school district employee Lois Shore.
"Mr. Hart taught us how to make concrete when I helped out in a social studies class last year," wrote "Ava," a former student of Hart's. "We literally got our hands dirty with sand, rocks and mud. He was teaching the kids how the Greeks and Romans constructed their buildings, many of which stand to this day. I thought it was fascinating that he brought history to life like that. Our hearts go out to the Hart family."
Hart grew up in Redwood City. He and his wife were able to buy a home at 450 Lincoln Ave. in Redwood City in April for $1.16 million. Koepnick said buying the house marked a big success for his family, considering that it's hard for any family living off of two teachers' salaries to afford a home.
Community rallies behind family
Koepnick noted that part of the reason why she started the GoFundMe account was to help the Harts with any financial burden following his death.
"With two little ones at home, their family has many daily, monthly and yearly expenses that quickly add up, and we want to make sure the Hart family can focus on their health and happiness rather than expenses for the foreseeable future," Koepnick wrote on the fundraiser's page.
Last night, Koepnick's fundraiser had raised over $70,000.
"The Palo Alto community has rallied to provide a phenomenal amount of support to the Hart family. As a result of generosity, we have already reached our initial funding goal of $25,000. With a toddler and three-day old newborn, we are laser-focused on helping the children not only get through this immediate tragedy but also to secure funding for the many child care expenses facing the family ahead," Koepnick wrote.
Koepnick said people are in shock following Hart's death.
"He was a teddy bear, he was always smiling," Koepnick said, adding that Hart was always willing to go the extra mile for friends, family and students.
Fatal confrontation
But something went terribly wrong on Monday morning. At 8:47 a.m., Hart's wife frantically called 911, telling a dispatcher that her husband was trying to kill himself with a knife, police said.
Officers arrived to find the woman in the front yard of the home covered in blood. She directed them to the backyard. While officers were heading that way, they encountered Hart, who had a butcher knife, according to Redwood City Lt. John Gunderson.
Both officers — who police said had been trained to intervene in crises — attempted to get Hart to drop the knife, but he refused and began running at the officers, police said.
One of the officers attempted to fire a Taser at Hart, but was unsuccessful. Another officer on scene, a 20-year veteran, "had no choice but to utilize a firearm to stop the male from advancing," according to Gunderson.
Dealing with the mental health crises
District Attorney Steve Wagstaffe's office is investigating the shooting and whether the officers acted legally.
Wagstaffe noted yesterday that in all four of the officer-involved deaths in San Mateo County this year, all of the men killed were suffering from some sort of mental health crisis. Wagstaffe said a big change needs to happen regarding how officers interact with people suffering from a mental illness.
There is help available for residents
Those looking for help can contact the Santa Clara County Suicide and Crisis Hotline at (855) 278-4204. Additionally, anyone in need of help can text "RENEW" to 741741.