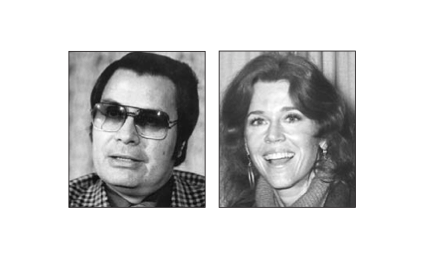 By the Daily Post staff
In all of the stories about the 40th anniversary of the Jim Jones-Peoples Temple massacre, one name hasn't popped up often — Jane Fonda.
Before the Nov. 18, 1978, murders and suicides of 918 people at Jones' jungle settlement in Guyana, South America, some of San Francisco's leading lights heaped praise on Jones.
Mayor George Moscone appointed Jones to be the chairman of the city's Housing Commission Authority. Then-Assemblyman Willie Brown compared him to Martin Luther King Jr. and Mahatma Gandhi. Chronicle columnist Herb Caen was a Jones booster. And Supervisor Harvey Milk considered Jones to be an ally. That's all according to the book "Cult City: Jim Jones, Harvey Milk and 10 Days that Shook San Francisco," by author Daniel J. Flynn. Other Jones supporters included Black Panther Party leaders Huey P. Newton and Angela Davis.
During Flynn's research, Fonda's name came up repeatedly. After she visited his church in Geary Street, she sent a letter to Jones saying, "I also recommit myself to your congregation as an active full participant — not only for myself, but because I want my two children to have the experience."
According to Flynn, the Peoples Temple viewed Fonda as so important that they assigned her a code name — Xavier — for use on shortwave trans- missions between Guyana and San Francisco.
Later, Fonda apparently had a change of heart about the Peoples Temple. One Temple transcript un-earthed by Flynn indicates that when she didn't return a phone call to Jones' wife, the reverend lashed out at her.
"She's a sellout," Jones told his flock in Jonestown. "Jane Fonda will not have anything to do with her former liberal friends … she's now playing it safe, and on a quest in her middle years to be popular and acceptable, and hopes to see her husband (at the time, state Sen. Tom Hayden) become president."
Not long after Fonda's falling out with Jones, San Mateo Congressman Leo Ryan and a group of journalists traveled to Jonestown to investigate reports of abuses of church members. As the visitors prepared to return to the U.S., Temple gunmen ambushed them on a jungle airstrip, killing Ryan; three newsmen; and a church defector.
The shooting sparked the murders and suicides in Jonestown of more than 900 people orchestrated by Jones. One of those wounded was a 28-year-old aide to Ryan, Jackie Speier, who was left for dead at the Jonestown airstrip. Speier would later be elected to Ryan's seat in Congress.