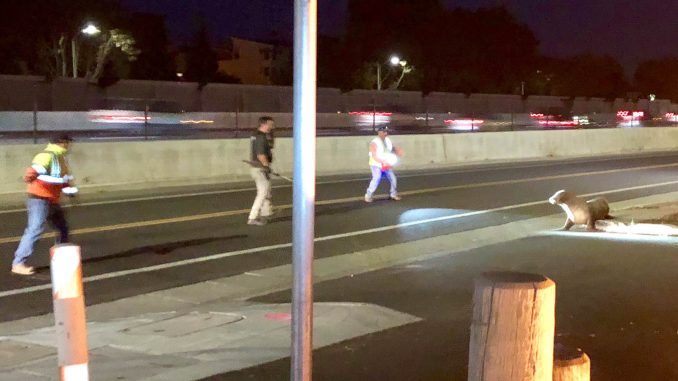 BY ALLISON LEVITSKY
Daily Post Staff Writer
Palo Alto Animal Services Superintendent Cody Macartney found himself in an unusual position yesterday morning: wrangling with a 200-pound California sea lion that turned up right outside his office on East Bayshore Road.
Macartney said a parks department employee happened upon the sea lion before 4:30 a.m., when he got to work at the Municipal Services Center at 3201 E. Bayshore Road.
The employee called Macartney, who responded to find four or five utility workers with the sea lion, which was just outside of the fence at the MSC in the dirt by the bike path.
The last time the city's animal services workers encountered a harbor seal, it was smaller and younger than the sea lion, so the workers were able to easily pick it up and move it.
'A big blob'
But this sea lion was either a sub-adult or adult. Macartney said it was probably 200 or 300 pounds and about 5 or 6 feet long.
"He kind of just looked like a big blob," Macartney said.
Macartney called the Marine Mammal Center in Sausalito, which wasn't open yet. So he had to take matters into his own hands.
First, he made sure it wouldn't move into the street, so he pulled out the city's largest kennel crate and had the utility workers bring plywood to put down to help corral the sea lion into the crate.
But, Macartney said, the sea lion "was not going to have that."
So the workers backed off to avoid injuring the sea lion and called the Marine Mammal Center again, where Macartney reached an on-call intern.
Sea lion became annoyed
Meanwhile, the sea lion "decided to get annoyed," Macartney said, and headed south on the bike path on East Bayshore.
"My concern was basically just to give him a wide berth and to keep him out of the roadway," Macartney said, noting that this was happening around 5 a.m., the beginning of the commute hour.
Macartney tried to get the sea lion to go down the driveway at the shelter, but it didn't want to do that either, so Macartney focused on giving the animal space and, as with any animal, making noises to keep him out of the roadway.
Once the sea lion passed the shelter, he entered some bushes at the Baylands as Macartney stood by and listened to the rustling.
When he heard the rustling stop, he parked, stayed there and waited for the Marine Mammal Center crew to meet him there.
Around 10 a.m., two trained volunteers and two employees arrived from the Marine Mammal Center. City workers helped to cut away bushes and fences there, and the mammal center workers netted the sea lion and trapped the creature in a metal cage they brought.
Yellowjackets attack
At some point, the workers disturbed a Yellowjacket nest, leading Macartney and two women from the Marine Mammal Center to get stung.
It took six men to carry the sea lion up the hill and into a truck to take to Sausalito, Macartney said.
The sea lion was in a quarantine pen last night at the Marine Mammal Center, where it will have a full admission exam today. They'll find out if the sea lion is a female or a male.
Marine Mammal Center spokesman Giancarlo Rulli said a veterinarian will measure the animal's height and weight, check the animal's lungs, look for any external injuries and examine its teeth to determine how old it is.
The most important test will be a blood draw, which will help determine whether the sea lion is suffering from an infection or another ailment. This year has seen the second highest outbreak of leptospirosis among sea lions in the center's 43-year history. Also called Weil's disease, leptospirosis is a bacterial disease that can cause kidney failure and is spread through infected urine. Humans can get it through direct contact with contaminated water, food or dirt.
A rare find in Palo Alto
The sea lion that was rescued in Palo Alto looked to be a healthy weight and is in overall good body condition. Once it's treated or found to be healthy, it will be released along the Pt. Reyes National Seashore.
Anyone who comes across a sick or injured sea lion should stay at least 50 feet away and call the Marine Mammal Center at (415) 289-SEAL, Rulli said.
But it's rare to find a sea lion in Palo Alto, he noted. Sea lions, especially males, migrate throughout the San Francisco Bay looking for fish to forage, but they usually don't turn up in the South Bay.
Macartney could attest to that.
"I've been here 16 years, and it's never happened to me," Macartney said.