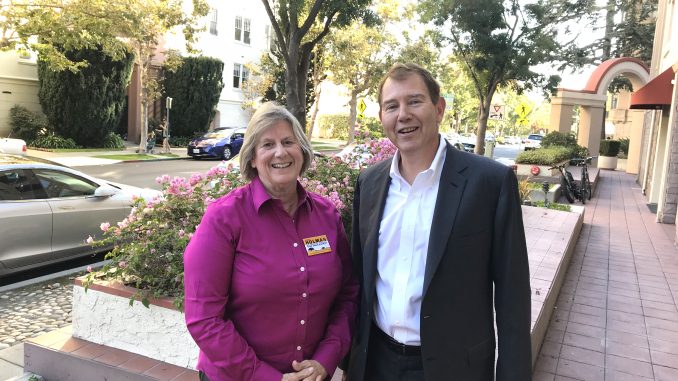 This story originally appeared in Tuesday's print edition of the Daily Post.
BY ALLISON LEVITSKY
Daily Post Staff Writer
Palo Alto Councilman Greg Scharff has spent more than $120,000 of his own money running against his long-time rival, Councilwoman Karen Holman, for a seat on the Midpeninsula Regional Open Space District board.
Campaign finance documents show that Scharff loaned $121,500 to his campaign between Aug. 20 and Oct. 17.
Nearly $109,000 of that was paid to Whitehurst Mosher Campaign Strategy and Media, an Oakland-based firm that Scharff hired to produce $78,215 mailers, $10,225 online ads and $5,000 campaign videos.
Scharff said he spent so much because it is "a very important race."
"As (former) mayor, council member and commissioner on the Bay Conservation and Development Commission and the San Francisco Bay Restoration Authority, I bring significant experience and passion to my environmental advocacy," Scharff said. "I am passionate about working to preserve and protect our open space."
Scharff has received $5,830 in contributions from others, including Los Altos Hills retiree Dan Maydan ($2,500), consultant Peter Detkin ($1,000), Broadcom Corp. engineering fellow Darren Neuman ($500), Palo Alto real estate investor Elizabeth Wong ($500), San Jose resident William Phillips ($250), Palo Alto psychiatrist Adam Strassberg ($100), Palo Alto economist Stephen Levy ($100), the California League of Conservation Voters ($100), Palo Alto photographer Teri Vershel ($100), OnRisk COO John Kelley ($100), attorney Steve Burnside ($70), Redwood City retiree Mary Pless ($50), attorney Franklin Flocks ($50), KFP nurse Nicola Mancini ($50) and retiree Peter Cancro ($50).
Holman, meanwhile, has given just $250 to her own campaign and raised $28,271 from donors, including Midpeninsula Regional Open Space District board members Larry Hassett and Yoriko Kishimoto.
"I'm proud to have run a grassroots campaign relying on community contributions and volunteers, going door to door to connect directly with voters," Holman said. "It has been a particular pleasure getting to better know the broader Ward 5 constituency."
Ward 5, the district that Holman or Scharff would be representing, includes most of Palo Alto, East Palo Alto and eastern parts of Menlo Park.
Holman's contributors include Palo Alto retiree Deborah Wexler ($1,000), Bell's Books owner Faith Bell ($999), nurse Rita Vhrel ($999), Paula Rantz ($950), retiree Michael Rantz ($950), Palo Alto therapist Mary Sylvester ($700), retiree Margaret Maloney ($550), Palo Alto Neighborhoods advocate Jeff Levinsky ($500), Palo Alto veterinarian Tina Peak ($500), Santa Clara Valley Medical Center doctor Carla Car valho ($500), psychologist Beth Rosenthal ($500), U.S. Patent Office Administrative Patent Judge Norm Beamer ($500) and Earthwise Productions CEO Mark Weiss ($500).