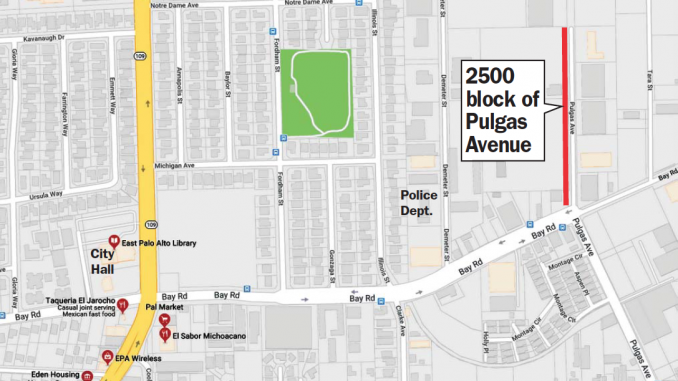 By the Daily Post staff
A fight at a Halloween party early this morning (Oct. 14) in East Palo Alto erupted into gunfire and two people were killed, police said. The suspect is at large.
One of the victims was identified as Eduardo Alvarado Sandoval, 22, of Stockton. The identity of the other person killed has not been released pending notification of next of kin.
Police learned of the shooting at 2:44 a.m. in the 2500 block of Pulgas Avenue from their ShotSpotter system, which picks up the sound of gunfire in the community and triangulates the location.
Police said they were on the scene in less than two minutes and found four victims suffering from gunshot wounds. Medics from the Menlo Park Fire Protection District and AMR ambulance responded to the scene and began treating the victims.
Two people were pronounced dead at the scene and two others were taken to hospitals with what police described as life-threatening injuries.
"Preliminary reports indicate there was a private adult Halloween party being held outside the rear of a business complex, a dispute that escalated into a physical altercation that quickly erupted into gunfire," East Palo Alto police Cmdr. Jeff Liu said in a statement.
Liu said the suspect fled the shooting scene and is still at large.
This is the first homicide to occur in public in East Palo Alto since June 10, 2016.
Anyone who witnessed this incident or has any information is urged to contact the police Department by:
• Calling Detective Lydia Cardoza at (650) 853-7249
• Sending an anonymous email to epa@tipnow.org
• Sending an anonymous text to (650) 409-6792
• Or leaving an anonymous voicemail by calling (650) 409-6792