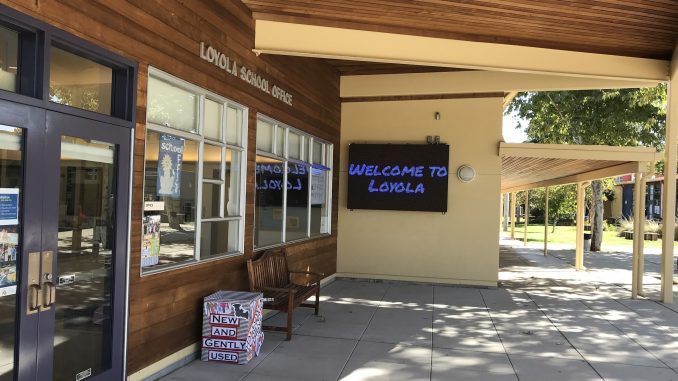 BY ALLISON LEVITSKY
Daily Post Staff Writer
A $5 million lawsuit against the Los Altos School District over the alleged sex assault of a 10-year-old girl is headed to trial on Monday (Oct. 15) after the two sides were unable to reach a settlement, court documents show.
The girl's parents, who are represented by San Diego attorney Patty Lewis, filed the suit in March 2017 and demanded a $5 million settlement from the district on April 13.
The district, which is represented by the San Francisco firm Dannis Woliver Kelley, offered the girl $40,000 on April 27. The girl's parents came back with a demand for $1 million on Aug. 20.
The two sides couldn't come to an agreement before Santa Clara County Superior Court Judge Mark Pierce on Wednesday (Oct. 10) morning. The scheduled jury trial before Judge Peter Kirwan is expected to last five days.
The suit alleges that in January 2016, when the girl was in second grade at Loyola Elementary School, two 7-year boys trapped her behind a schoolyard shed on two occasions, pulling down her pants and pulling up her shirt.
The boys are accused of touching her private parts with their hands and a stick, pouring water down her back and putting dirt and mud down her pants. The second time it happened, the boys allegedly brought a third boy to watch and participate. That boy told another student, and the two alerted a playground aide to what was going on.
The girl has since moved to San Diego County, where she lives with her father.
Her parents say that the assault led their daughter to lose "society, companionship and enjoyment of her peers" and that she would continue to incur future damages in the form of medical costs.
They contend their daughter has demonstrated inappropriate sexual behavior since the assault.
Palo Alto family therapist Cecilia Long wrote in January 2017 that the girl had processed the assault successfully through play therapy, but recommended continued therapy for the girl for further effects from it and from her parents' divorce.
Could the assault have been prevented?
The girl's parents' legal argument focuses on the district's alleged negligence to prevent the assault by not monitoring students' behavior behind the shed.
District officials argue that they weren't negligent in providing supervision, that they couldn't have foreseen intentional sexual misconduct between children and that any effect the incident had on the girl was "long ago resolved."
They're also arguing that any anxiety the girl had was "far overshadowed by the other events in her life, for which she has received ongoing therapy."
Those events include moving between her mother's house and her father's house, her parents' "high-conflict divorce," her mother's relocation to the East Coast to be with her new husband and her mother's pregnancy with her new half-sister.
Another lawsuit goes to mediation
One of the boys' parents also filed a lawsuit against the district in April 2017, accusing the district of defaming and emotionally traumatizing their 8-year-old son by treating him like a criminal.
The boy is emotionally immature for his age and has autism and ADHD, hindering his ability to read social cues and respect others' personal space.
His parents claimed that the three kids were pull- ing down their pants to "moon" and "pants" each other in an inappropriate, but innocent game.
The boy's suit was dismissed in January in favor of mediation outside of court.
Lewis, the plaintiffs' attorney, did not return a request for comment. Neither did the school district's attorneys at Dannis Woliver Kelley.