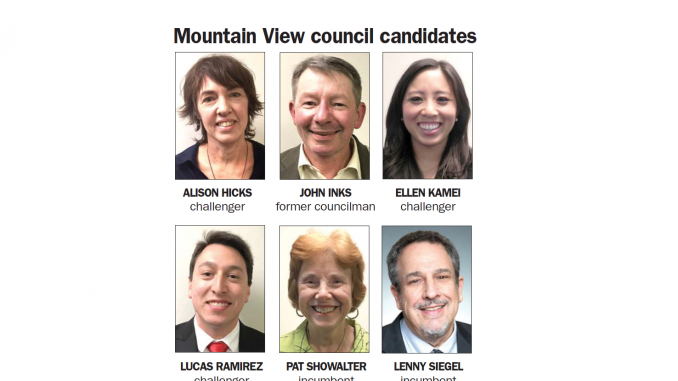 BY ALLISON LEVITSKY
Daily Post Staff Writer
Between adding 10,000 homes, planning ambitious transportation projects, redeveloping several parts of the city and dealing with an influx of RVs on city streets, Mountain View's next City Council will have a big job on its hands.
Six candidates — two incumbents, a former mayor, two planning commissioners and a newcomer — say they're ready to run the city during this period of dramatic growth. Voters will elect three of the six candidates.
Incumbents Lenny Siegel and Pat Showalter are running for re-election while the third incumbent, Ken Rosenberg, decided not to seek a second term.
Lenny Siegel, who is running for his second term, is currently serving as mayor and has been a staunch advocate of building housing, the city's two-year-old rent control program and investing in public transportation.
Siegel said he wants to see the city improve traffic signals and develop an automated guideway transit system to connect downtown to the North Bayshore area.
Along with Pat Showalter, he was also part of the council majority that voted in favor of allowing two marijuana shops and two delivery services to open in town.
Pat Showalter, who is running for her second term, said she was proud of developing 370 affordable housing units, bolstering bike infrastructure and beefing up services for the poor.
Showalter touted the city's collaboration with the Community Services Agency of Mountain View and Los Altso in assisting the 250 to 400 people who live in cars in Mountain View. She said she wants the city to continue to focus on keeping people crunched by the city's high rents from becoming homeless.
Showalter is a supporter of the city's business license tax update, which she says was overdue and still allows small businesses to grow.
John Inks, who left council in 2016 after reaching the two-term limit, is running again and so far has been the only candidate to accept large contributions from developers. A Libertarian, he has opposed the city's accommodation of vehicle-dwellers.
He said he doesn't personally object to the RVs, but that expressed concerns that the sanitation services provided by the Community Services Agency, including laundry, showers and toilets, lure vehicle-dwellers to town.
Inks said he voted for every major housing project except one in which he had a conflict of interest, but opposed the city's rent control law.
Ellen Kamei is a six-year planning commissioner and district director for state Assemblyman Marc Berman. She said wants to serve on council to encourage housing and work on transportation programs that would get people out of their cars. Kamei received early endorsements from the police and fire unions, who both promised her endorsements after she lost her last City Council campaign.
Kamei said she wants to increase variety of the city's housing stock by building micro-units and creating a subsidized down payment program for middle-income residents wishing to buy homes for the first time.
Lucas Ramirez is a planning commissioner and council policy and legislative analyst at San Jose City Hall. He is a supporter of Mountain View's rent control program, but said he will vote no on Prop 10, the statewide proposition that would allow cities to apply rent control to new housing.
Ramirez explained that he doesn't want cities to be able to apply rent control to new development because it would stifle the construction of housing.
He's serves on the VTA 2000 Measure A Citizens Watchdog Committee and says he wants to work to implement a safe parking program for RVs, provide better outreach and assistance to the homeless and provide "appropriate enforcement" of city laws.
Alison Hicks is a former urban planner who has worked in San Jose and Oakland.
She co-founded the sensible-growth group Livable Mountain View and said she wants to ensure the city uses good design as it transitions from a suburb to an urban area.
Hicks takes a particular interest in the downtown area and wants to see it keep its funk and interest as new developments crop up.