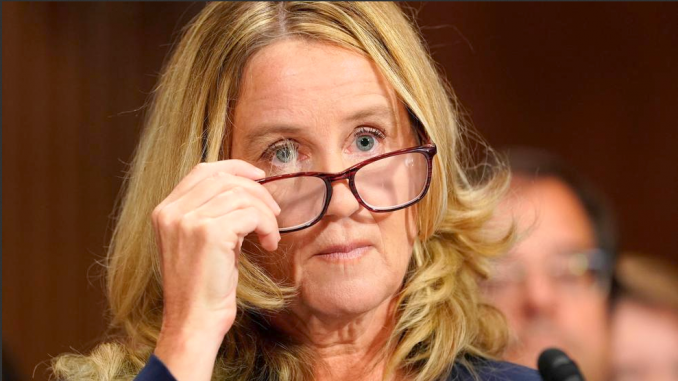 BY ALLISON LEVITSKY
Daily Post Staff Writer
Despite an online rumor to the contrary, a building permit from the city of Palo Alto does not contradict Christine Blasey Ford's testimony regarding a second front door she had installed on her house.
As the Post reported on Tuesday (Sept. 25), a 2008 building permit for the 753-square-foot expansion on Ford's L-shaped, Eichler-style home includes plans for a new door on the master bedroom.
The story mistakenly referred to the new bedroom door as a backdoor. Conservative pundit Paul Sperry tweeted about the second door on Thursday (Sept. 27), claiming the 2008 date of the permit "raises questions" about Ford's testimony that the first time she told her husband that U.S. Supreme Court nominee Brett Kavanaugh had sexually assaulted her in high school was during a May 2012 conversation about their home remodel.
"BREAKING: Palo Alto bldg permit records raise questions about Ford's testimony she completed an 'extensive remodel' of home in 2012 & that this was seminal event that led her down path to coming out against Kavanaugh b/c she needed to add an escape door. Permit was issued in 2008," Sperry wrote in a tweet that was reposted 6,600 times.
Several conservative blogs have since posted about the 2008 building permit, citing Sperry's tweet.
On Thursday, the Gateway Pundit — whose tag- line pledges to "leave the Russia-Collusion fairy tale to the Conspiracy media" — cited Sperry's tweet in a post titled "FORD CAUGHT IN MAJOR LIE? City Remodeling Permits Show Project She Linked to Kavanaugh Was in 2008 NOT 2012."
But contrary to the inconsistency that Sperry suggests, Ford testified on Thursday (Sept. 27) the remodel was completed before the counseling session in May 2012.
"The reason (the assault) came up in counseling is that my husband and I had completed a very extensive, very long remodel of our home and I insisted on a second front door, an idea that he and others disagreed with and could not understand," Ford testified, admitting that the house now "does not look aesthetically pleasing from the curb."
Ford later told Sen. Dianne Feinstein during her questioning that she wanted the second front door because of her anxiety, PTSD and claustrophobia resulting from the 1982 assault.
Ford's friend Jim Gensheimer, of Saratoga, was quoted in the Wall Street Journal on Sept. 19 stating that Ford needs more than one exit door in her bedroom to feel safe.
According to the building permit, the Fords removed a home office attached to the garage, expanded the garage and added a master bedroom onto the front, with its own front door. The new bedroom's front door opens onto the street, perpendicular to an adjacent front door on the great room.
They now rent out the master bedroom with a private door to Google interns, Ford testified.
The floor plan is dated Nov. 29, 2007, and received a plan check approval from the city on Jan. 28, 2008. Other documents were submitted for the renovation on Feb. 4, 2008.
The Fords didn't file any other building permits with the city until June 14, 2013, when they added a solar hot water system to their home.