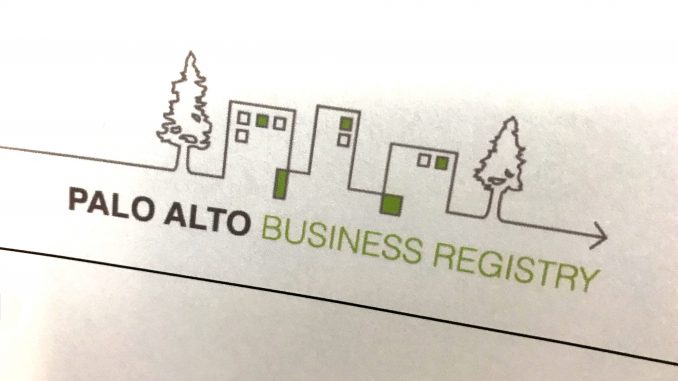 BY ELAINE GOODMAN
Daily Post Correspondent
The city of Palo Alto's business registry, touted as a way to collect information to use in planning and transportation projects, has been producing inaccurate data, according to a new report from City Auditor Harriet Richardson.
"The city's 2015-to-2017 business registry data contained numerous duplicate, inconsistent, or incomplete records, which limit the usefulness of the data and could cause incorrect conclusions about year-over-year business trends," Richardson wrote in the report.
In addition, the business registry data show a 24% decrease in the number of businesses in the city from 2015 to 2017, and a 9% to 10% drop in number of employees and amount of square footage occupied. That's inconsistent with other data, such as sales tax figures or U.S. Census information, that indicate positive economic trends for the city over that time, Richardson said. As a result, the auditor has suggested several possible measures, such as comparing business registry data to the city's list of utility customers to find businesses that have not registered. The city could check whether a business has registered when a code enforcement complaint is filed, or when a business applies for a permit.
Alternatively, someone could be assigned to go out and look for businesses that have skirted registration requirements.
"This process may be costly and unpopular with businesses. However, it would provide a means of validating the completeness and accuracy of registry data," Richardson wrote in her report.
The City Council's Policy and Services Committee is scheduled to discuss the business registry report on Sept. 11.
$54 annual fee
The business registry, launched in 2015, requires businesses to complete a questionnaire each year and submit it to the city along with a fee, which is currently $54. The registry requirements apply to businesses operating in a "fixed place of business" in Palo Alto, meaning a place intended for businesses purposes such as an office or retail space.
In addition to basic information such as its name and address, businesses must say how much square footage they occupy, how many workers they employ, how many parking spaces they have, and how many parking permits they buy for workers.
Businesses that miss the annual March 31 deadline to register may be subject to fees, penalties, and collection activities.
In a frequently-asked-questions page about the city's business registry, the city says the information collected "is critical … to develop and measure the effectiveness of programs to reduce traffic congestion, better utilize parking, and coordinate with other transportation-related efforts."
The data may also be used for economic development, public safety and disaster preparedness, Regional Water Quality Control Plant compliance, or business outreach and support, the city said.
City isn't using the data
But Richardson said in her audit report that she did not find any ongoing city process that uses the data.
"(This) suggests that the data does not currently meet the city's business needs or address its changing priorities," the report said.
The city's Development Services Department had been running the business registry. But in January, the city signed a two-year, $85,000 contract with MuniServices LLC to administer the program.
Working with MuniServices should improve the reliability of the business registry data, Deputy City Manager Michelle Flaherty said in a response to the auditor's report. For example, the city plans to combine the collection of business registry fees with that of Downtown Business Improvement District dues, which MuniServices also handles.
The Development Services Department plans to use MuniServices' analytics services to help verify the accuracy of business registry data. The department will also discuss sharing data with the utilities and information technology departments, Flaherty said. Other recommendations from the auditor will be evaluated for their benefit versus cost.
Council wanted data on businesses
The business registry arose from a February 2014 memo from four council members to the full council.
"Palo Alto needs a business registry as soon as possible to answer such basic questions as how many people work in Palo Alto and for what types of businesses," said the memo, from then-council members Marc Berman, Pat Burt, and Larry Klein, and Karen Holman, who is still on the council.
Palo Alto was one of the few cities in the region without a business registry or a business license, the council members said at the time. And information gathered through the registry could help the city in tackling two of its top issues: traffic and parking.
One strategy to do that was to develop a strong Transportation Demand Management program, the council members said.
"Good data is essential to design a sound program, establish baselines and monitor progress," they wrote in the memo.
In November 2014, the council passed an ordinance to create the business registry. Businesses were first required to sign up in 2015.
One topic of debate during the creation of the registry was what information to gather from businesses. At one point, the city considered asking businesses whether they sell tobacco, handle hazardous waste or use plastic pellets.
Richardson said the city should figure out what it wants to use the registry data for, and revisit the questions based on the purpose of the data.
City overestimated the number of businesses
When the registry program started, the city estimated there were about 5,000 businesses in Palo Alto. By March 2016, that estimate had changed to 2,830.
Registry data indicate there were 2,589 registry certificates issued in 2015; 2,147 certificates in 2016; and 1,929 certificates last year.
The decrease seen in 2017 may be at least partially due to a 2016 amendment that exempted small businesses and nonprofit agencies from business registration, the auditor said.
But Richardson recommended that all businesses be included in the registry.
"To provide reliable and useful information, the registry should include all Palo Alto businesses and their addresses, even if some are exempt from paying a registry fee," Richardson said.