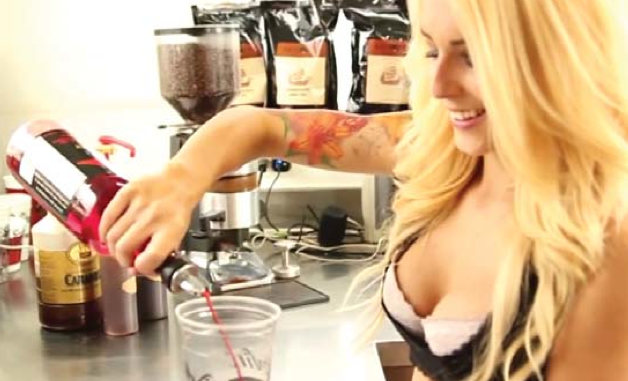 By EMILY MIBACH
Daily Post Staff Writer
Residents of the North Fair Oaks neighborhood want to stop the opening of a coffee shop where the baristas wear bikinis and lingerie while whipping up drinks.
Displeased residents went to the microphone at the San Mateo County Board of Supervisors meeting on Tuesday (Aug. 7) to protest the proposed coffee shop, called Pink Pantherz Espresso, which would replace the now-closed Caffino drive-thru at 2797 El Camino Real, between Atherton and Redwood City in the unincorporated county.
"Even though I am 9 years old, I know what's right and wrong, and it is not appropriate to use a woman's body to sell coffee," said Juiletta Martinez, who was one of seven residents who spoke at the meeting.
Hanky Panky down the street
Sister Christina Heltsley, executive director of the St. Francis Center, a nonprofit located down the street from the proposed coffee shop, said the neighborhood already has the Hanky Panky strip club, and does not want to be a dumping ground for seedy businesses.
Heltsley also said she's glad the "disgusting" Secrets adult book store at 2601 El Camino is gone.
"We are not a trashy community. We are a community of hard-working families," Martinez said.
Objectifying women
Ana Avendano said she's concerned about the messages that her young daughter will get from the coffee shop, which will serve up drinks called the "Panty Dropper" and the "Bootycall."
"I believe women ought to have a diverse set of opportunities that includes employment, however, I don't believe in opportunities that will continue to objectify women (for) capitalism," Avendano said.
The county's planning department is reviewing the application for Pink Pantherz Espresso.
There are no health or food codes that restrict the attire of employees or the naming of menu items, said county spokeswoman Michelle Durand. Also, the county zoning plan allows food businesses to bypass the planning permit process.
'Uniforms' might be a problem
But because of the "uniforms" of the Pink Pantherz workers, the business would be considered an adult entertainment business, Durand explained.
The business has been informed by the county that the employees' outfits must completely cover their bottoms, so that their buttocks are not exposed. Additionally, their breasts must be covered, Durand said.
If the business does open, the county will work "closely" with the owner to make sure there is compliance, Durand said.
The Post was unable to reach Pink Pantherz yesterday (Aug. 8).
There are three other Pink Pantherz shops in California — Fremont, Modesto and Fresno.