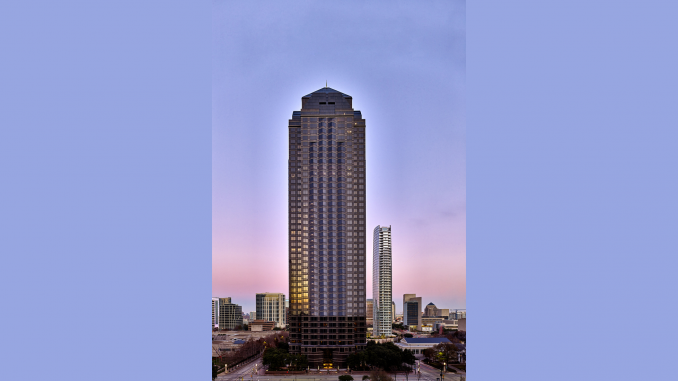 BY ALLISON LEVITSKY
Daily Post Staff Writer
A Chinese developer is seeking to erect a 50-story building in Santa Clara — which if approved, would be the tallest Bay Area building south of San Francisco, more than twice as tall as the highest skyscraper in San Jose.
Kylli, a subsidiary of Genzon Investment Group, is angling to build an office building as tall as 50 stories and an apartment building reaching up to 35 stories at 3005 Democracy Way, formerly the site of Yahoo's office near the corner of Great America Parkway and Tasman Drive.
For reference, the Transamerica Pyramid in San Francisco is 48 stories tall and the Millennium Tower, the hotel and residential building that has been tilting and sinking since its construction, is 58 stories tall.
The tallest building in San Francisco, and the tallest west of the Mississippi River, is the newly completed Salesforce Tower, which rises 62 stories and 1070 feet.
The tallest building in San Jose is a 22-story residential skyscraper at 88 E. San Fernando St. The 28-story Ordway Building on the shore of Lake Merritt is Oakland's tallest.
Because of density restrictions, the city would have to amend its general plan to accommodate the development, which may be possible: council voted Jan. 23 to move ahead with an "early consideration" of making amendments.
The project may be submitted this fall, when the city reviews all general plan amendments that are under consideration.
Currently the mostly vacant 49-acre site would only allow for 3 million square feet of office space, which Kylli is hoping to boost to 3.5 million square feet of office, 6,000 apartments or condos totaling 6 million square feet, a 400,000-square-foot hotel, 8 acres of green space on the ground and 12 acres of green space on rooftops or decks.
The site is next to the 9.7 million-square-foot City Place development at 5155 Stars and Stripes Drive which, according to development advocacy group Catalyze SV, could transform not only the neighborhood, but development patterns throughout the once-rural region.
City Council voted Jan. 23 to move ahead with early consideration of amending the city's general plan. Catalyze SV held a public "visioning workshop" on the project at the Santa Clara Convention Center on Saturday morning.