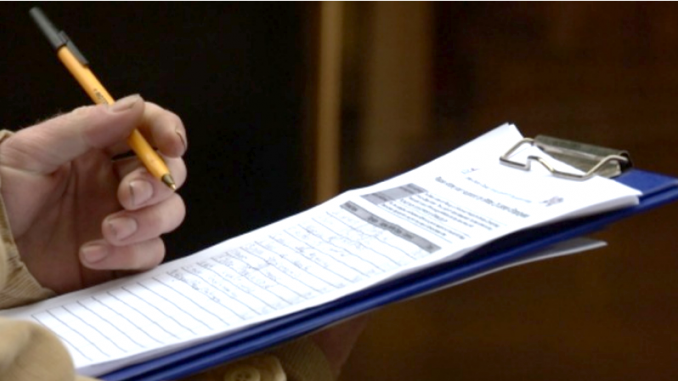 BY ALLISON LEVITSKY
Daily Post Staff Writer
Two initiatives that have qualified for the November ballot in Palo Alto will be taken up by the City Council tonight (June 11): a bid to halve the office development allowed in the city, and a union-led effort to limit hospital profits.
Because the Santa Clara County Registrar of Voters has found that both petitions had collected more than the 2,407 valid signatures required to qualify, council may choose to either pass the initiatives outright as city ordinances or add them to the November ballot.
The office cap would limit the amount of office development allowed in the city from 1.7 million square feet between 2015 and 2030, or 113,000 square feet per year, to 850,000 square feet, or 56,667 square feet per year.
Palo Alto has seen an average office development rate of 29,695 square feet per year since 2001.
Unlike the existing 50,000-square-foot annual office cap that only applies downtown, in the California Avenue business district and along the El Camino Real corridor, the proposed cap would apply citywide, including Stanford Research Park, Stanford Shopping Center and the San Antonio, West Bayshore and East Embarcadero areas.
Limiting growth of workforce
Members of the slow-growth group Palo Altans for Sensible Zoning, including former Vice Mayor Greg Schmid, say the stricter cap would limit the housing, traffic and parking impacts of new employees.
The hospital profit cap was introduced by SEIU-United Healthcare Workers and would limit Stanford Hospital's profits at 115% of the sum of the "reasonable cost of direct patient care for a particular patient."
The union has accused Stanford of charging 264% more than the statewide average to treat a patient for substance abuse, 141% more to treat a patient with chest pain and 120% more to treat a patient with kidney failure.
Will patients benefit?
But Stanford says the initiative would force hospitals, medical clinics and doctors to pay rebates to insurance companies without requiring that the rebates be passed on to patients.
"The measure's fine print reveals that it does not actually limit prices charged to patients," hospital officials said in a statement. "Local government will be burdened with figuring out how to enforce this unconstitutional, confusing scheme, costing taxpayers money and potentially putting other public services at risk."
SEIU-UHW spokesman Sean Wherley didn't return a request for comment on the hospital's allegations.
Court challenge planned
Stanford Health Center has stated it will go to court to challenge the ballot measure before the election. Along with other hospitals, Stanford has filed a friend-of-the-court brief in the city of Emeryville's lawsuit against the union over a similar ballot initiative.
"The true objective of this initiative appears to be nothing more than an SEIU-Workers West (UHW) effort to gain paying members and to distort facts about our organization in the process," hospital officials said. "If it passes, the Palo Alto community's access to world-class healthcare will be unnecessarily jeopardized."