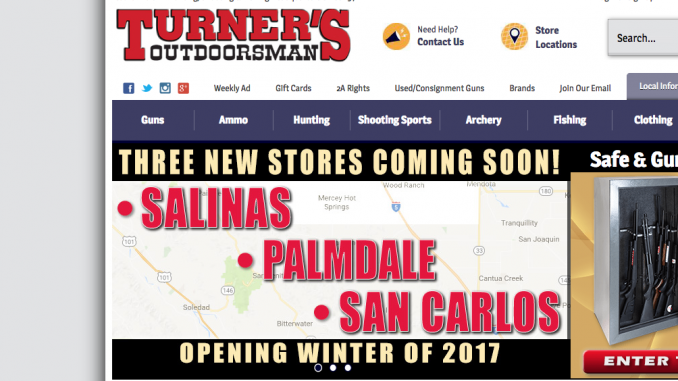 BY EMILY MIBACH
Daily Post Staff Writer
San Carlos City Council will vote Monday (May 14) on whether to deny a $295,301 claim against the city made by a Southern California sporting goods chain, which alleged officials committed fraud by lying to store executives about their willingness to allow a gun retailer in the city.
The claim was filed on March 29 by Turner's Outdoorsman, which wanted to open up a store at 1123 Industrial Road.
But on Nov. 13, the council imposed a moratorium on new gun stores after hearing from an outpouring of residents and gun opponents.
If the city rejects the claim, Turner's will then have the right to sue the city.
In its claim, Turner's says city officials led the retailer into thinking it could open the store under false pretenses.
"Towards the end of the licensing process, some city officials directly misled Turner's including giving Turner's permission to begin costly demolition work on the identified retail space while at the same time knowing that other city officials were working to propose a moratorium that would prevent the space's opening," the claim said.
But before the moratorium was publicly revealed, city employees stopped the approval process of the store without telling Turner's, the claim says.
City Attorney Greg Rubens and Administrative Services Director Rebecca Mendenhall are both recommending the council to deny the claim.
They say in a memo that it was Turner's who began the demolition of their leased space at 1123 Industrial Road even though they hadn't received any permits from the city.
'Behind-the-scenes dealing'
The claim also says there was "illegal and unethical behind-the-scenes dealings within the city," where officials were "surreptitiously communicating with ideological opponents of firearms use for the purpose of thwarting the store's opening."
Turner's names councilmen Mark Olbert and Ron Collins as two of the conspirators who worked with San Carlos residents to stop or "heavily regulate" the new store. Ethics complaints had been brought against the two councilmen by residents regarding similar issues, but the complaints were cleared by Mayor Bob Grassilli at a Feb. 12 council meeting.