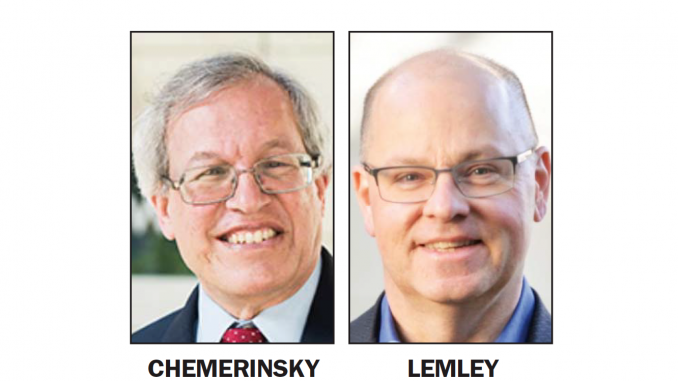 BY ALLISON LEVITSKY
Daily Post Staff Writer
For the third time in a week, the question of whether voters should recall Judge Aaron Persky will be debated tonight (April 24).
This time, the issue will be taken up by Berkeley Law Dean Erwin Chemerinsky, a Persky supporter, and Stanford Law professor Mark Lemley, a recall supporter.
The public event, which is organized by Stanford's chapter of the American Constitution Society, is scheduled for 7 p.m. in room 290 of Stanford Law School at 559 Nathan Abbott Way.
Unlike the two other debates last week, this one won't feature either side's most prominent spokeswomen, Stanford Law professor Michele Dauber, chair of the recall campaign, or retired Palo Alto judge LaDoris Cordell, Persky's most vocal supporter.
Chemerinsky joined Berkeley's faculty on July 1. Before that, he was the founding dean at UC-Irvine School of Law and taught at Duke University, USC Law School, DePaul College of Law and UCLA Law School.
Lemley is the director of Stanford's Program in Law, Science and Technology. He teaches intellectual property, computer and internet law, as well as patent, trademark and antitrust law.
More than 90 law professors oppose the recall, including former Berkeley Law Dean Jesse Choper and former Santa Clara University deans Donald Polden and Gerald Uelman.
"We invited them because they are both legal scholars with sterling credentials who have decided to vocally support different sides in the campaign," American Constitution Society Co-President Sarah Mahmood told the Post in an email.
Chemerinsky and Lemley will each give an opening statement followed by rebuttals. Then law students will have the opportunity to submit questions, which will be selected and read by a moderator.
The event is co-hosted by the Criminal Law Society and Women of Stanford Law.
On Wednesday evening at the Fremont Hills Country Club in Los Altos Hills, retired Palo Alto Judge LaDoris Cordell, a Persky supporter, faced off with Stanford Law professor G. Marcus Cole, who was filling in last-minute for his colleague, Dauber. Dauber pulled out of the event on Wednesday afternoon, citing a mandatory parent meeting at her son's school.
On Friday morning at an event hosted in San Francisco by the Criminal Trial Lawyers Association of Northern California, Dauber faced Santa Clara University Professor Ellen Kreitzberg in a debate.