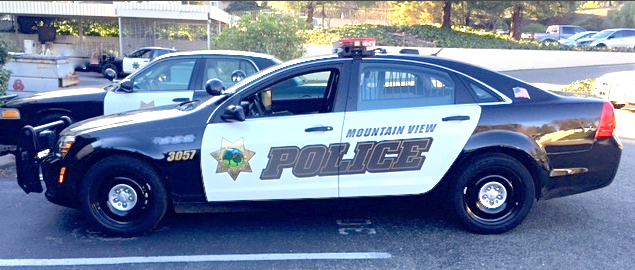 BY ALLISON LEVITSKY
Daily Post Staff Writer
Eight employees of the city of Mountain View, including four police officers and Fire Chief Juan Diaz, have crashed city vehicles in less than a year, according to documents obtained by the Post.
The four crashes involving police officers took place between February and October 2017.
On Feb. 12, 2017, Officer Richard Valenzuela hit Dennis Kizer's car while Kizer was driving south on Castro Street at about 25 mph.
Valenzuela backed out at Yosemite Drive and broadsided Kizer's car, according to Kizer's claim. He requested $5,600 for the damage and a car rental. The city wrote Kizer a check for $3,850 on April 19.
On Aug. 7, Officer Chris Kikuchi rear-ended Lili Liu's car when she started to make a right turn at a red light at Shoreline Boulevard and Villa Street, but realized she hadn't come to a complete stop, so stopped before completing the turn. The city paid Liu $10,082.79 for damage on Jan. 2.
Accident in San Jose
On Sept. 9, Officer Jeremy Lewis rear-ended Juan Valdivia's car on Sunnycrest Circle in South San Jose. The city paid Valdivia the $1,343.99 he requested for repairs on Dec. 8.
On Oct. 2, Officer Matthew Rogers reversed into Holly Sewell's car at a high speed while they were both waiting at a red light in the left turn lane of westbound El Camino Real at Castro Street.
The crash caused extensive damage to her front bumper, leading her to request $1,134.14 for a repair and a new license plate on Oct. 17.
The city paid her the sum on Dec. 22, the same day that Fire Chief Juan Diaz allegedly hit a car belonging to John and Susan Downey in a parking lot on Santana Road in Santa Clara.
According to a claim form submitted by the Downeys' insurance agent, Diaz backed his department Chevrolet Tahoe SUV into the Downeys' 2013 Subaru Outback, causing $840.76 in damage.
"Your driver failed to maintain proper looking and improper backing," Allstate Insurance Agent Sheila Dennis wrote in a Feb. 21 claim. The city has not responded to the Downeys' claim, and Diaz did not return a request for comment.
On July 28, an unnamed city employee rear-ended Paaklan Sy's 2009 Toyota Corolla on Shoreline Boulevard, damaging the rear bumper and car seats. On Jan. 19, the city paid Sy the requested $1,064.57 for repairs.
Another San Jose accident
On Dec. 6, utility worker Paul Culazzo allegedly veered a city truck into the driver's side of Nicole Jarvis' car on southbound Highway 85 before the Camden Avenue exit in San Jose.
The crash pulled off the driver's side mirror of Jarvis' car, leaving it hanging by electric wire. Jarvis requested $504.63 in repairs and for a rental car. The city has not yet responded to her claim.
On Jan. 8, a city employee named Leoel Mantilla driving in the parking garage of City Hall found himself in the cringeworthy position of having hit his boss' car, according to a claim.
Somebody hits the city manager's car
City Manager Dan Rich's 2015 Volkswagen Golf was hit on the driver's side, leading to a $902.25 repair bill. The city has not yet responded to his claim.