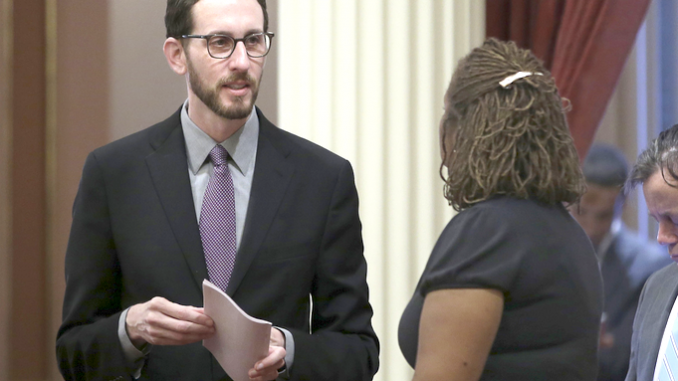 From staff and wire reports
The author of a bill in the Legislature that would have allowed 85-foot tall apartment buildings on El Camino Real reduced the maximum height in the legislation to 55 feet.
State Sen. Scott Wiener, D-San Francisco, made several other changes in Senate Bill 827 following rallies by supporters and opponents in San Francisco last week.
Palo Alto was one of the cities that is opposing SB 827. The maximum height allowed in Palo Alto is 50 feet.
The bill would exempt housing developers of projects near major mass-transit stops and corridors from some city requirements, specifically those affecting parking, residential density, building height and the ratio of residential to commercial floor space, although local jurisdictions could still reject proposals on other grounds, according to Wiener's spokesman Jeff Cretan.
Demonstrations
Housing activists who say that SB 827 would take control away from city governments, raise rents and displace residents staged a rally last Tuesday (April 3) outside City Hall where they were confronted by counter-demonstrators, with the two sides shouting over one another at times.
After consulting with housing experts, advocates and local officials, Wiener announced a new set of revisions to SB 827 yesterday (April 10) morning.
The latest iteration of SB 827 would:
• require at least some affordable housing units in every development "except the very smallest" to include between 10% and 20% low-income units or between 5% and 11% very low-income units.
• prohibit demolition permits for any building with an Ellis Act eviction, in which the owner plans to go out of the rental business, recorded in the previous five years.
• require developers to replace subsidized affordable housing units and rent-controlled units at a 1-to-1 ratio, in order to prevent a net-loss in affordable housing.
• Limit the height of housing developments to 55 feet within a quarter-mile of rail and ferry stations and up to 45 feet tall within a half-mile. Previously, the bill allowed buildings as tall as 85 feet in some places.
The bill would apply to housing developments within a quarter-mile of stops on major bus corridors with average service intervals of 15 minutes during peak commuting hours, 20 minutes the rest of the day on weekdays and 30 minutes on weekends.
Minimum requirements some cities impose for parking spaces could not be enforced within a quarter-mile of a rail or ferry station, but cities could still require at least one parking spot for every two residential units outside that distance or near qualifying bus stops.
Developers taking advantage of that provision would be required to provide monthly transit passes to residents at no cost.
In order to be eligible for approval under SB 827, developments would have to be at least two-thirds residential by square footage, and implementation would be delayed until January 2021 so local jurisdictions have time to prepare.
"We have worked with both supporters and opponents on these amendments, and we will continue to work with anyone committed to solving our housing shortage as we move through the legislative process," Wiener said. "We will bring more housing to our state if we work collectively on solutions."
SB 827 is scheduled for a hearing before the Senate Transportation and Housing Committee in Sacramento on April 17.
On Feb. 14, Palo Alto Mayor Liz Kniss sent a letter to Wiener opposing the version of SB 827 that was proposed at that point.
City wanted more time
Kniss said in the letter that Palo Alto was committed to affordable housing, but that the city needed more time to adjust to changes from other Senate bills passed last year regarding housing.
Those bills provided funding and other measures to increase development of vacant or underused parcels of land, something planners call infill development. The bills also called for looser regulation of granny units.
"We urge a more collaborative approach that builds on past efforts once we fully understand their effectiveness," Kniss wrote in the Feb. 14 letter.
On March 6, Mountain View Mayor Lenny Siegel also sent a letter to Wiener opposing the version of SB 827 that was on the table then. One of his concerns was that the state law would eliminate the city's ability to approve such housing projects.
"Some of the reasons communities question minimum-density development areas are reasonable, and engaging the public in the process leads to better projects," Mayor Lenny Siegel wrote in a letter to Wiener yesterday. "If state law prevents communities from protecting their quality of life as they build new housing, they will resist building any new housing and the law could backfire."