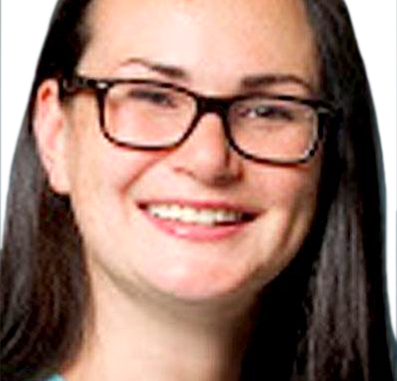 BY ALLISON LEVITSKY
Daily Post Staff Writer
One of the three victims of Friday's hostage standoff at a veterans home in Yountville was an alumna of St. Francis High School in Mountain View, according to the school.
"We are very saddened by news of the passing of Dr. Jennifer Gonzales, '03," school administrators wrote in a Facebook post. "Our thoughts and prayers are with the Gonzales family."
Jennifer Gonzales Shushereba, 32, who took her husband's name, was seven months pregnant and would have celebrated her first wedding anniversary next Sunday.
She worked as a clinical psychologist with the San Francisco Department of Veterans Affairs Healthcare System and lived with her husband in Napa.
An online fundraiser has collected more than $140,000 in donations for Shushereba's widower, TJ Shushereba.
"As a young clinical psychologist, Jenn dedicated her life to helping servicemen and women reintegrate and readjust to civilian life," Ian Sambor, who set up the fundraiser on GoFundMe, wrote in a statement. "Every aspect of Jenn's life was dedicated to others and her caring and kind spirit was evident to everyone she met."
Her baby also died
Napa County sheriff's Capt. Steve Blower said Shushereba's baby also died. Sheriff's officials initially said Shushereba's last name was Gonzales and she was 29 years old.
"We are very, very sad," said Vasiti Ritova, a family friend of Shushereba.
Shushereba was working in Yountville in the Pathway Home program, which serves mainly veterans who fought in wars after the Sept. 11, 2001 terrorist attacks.
The program provides educational, professional and clinical support to post-9/11 veterans pursuing school- or work-related endeavors as they transition to civilian life.
Ritova knew Shushereba because Ritova's sister was a caregiver for Shushureba's grandmother.
Families were close to one another
The two families were close because Shushereba visted her grandmother often and even spoke at the funeral of Ritova's sister.
"Our dearest, dearest Jennifer," Ritova said. She "was the perfect granddaughter any grandma would ever ask for."
Shushereba would come every other week or so to help look after her grandmother, cooking meals, playing the ukulele and bathing her.
"That was who she was," Ritova said.
Two other women and the alleged gunman Albert Wong, 36, of Sacramento, died in the standoff, which took place at the Veterans Home of California.
Jennifer Golick, 42, of St. Helena, was the clinical director of the Pathway Home program.
Christine Loeber, 48, of Napa, was executive director of the program.
Neither the Pathway Home program nor the Veterans Home of California is part of the U.S. Department of Veterans Affairs.
Bay City News Service contributed to this story.