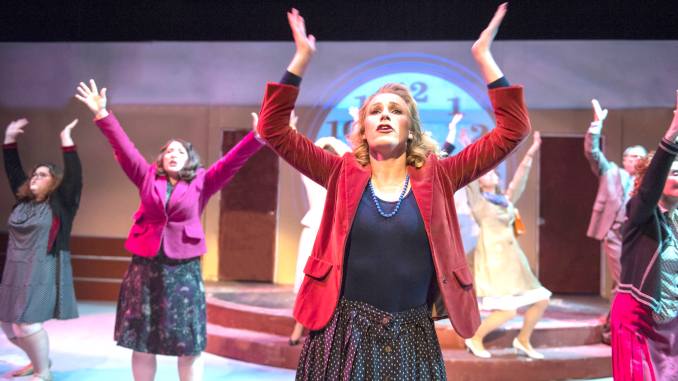 BY JOHN ANGELL GRANT
Daily Post Theater Critic
Before there was the Me-Too movement, there was the movie "9 to 5," followed by the television series "9 to 5" — and more recently, in 2009, the Broadway musical "9 to 5."
A local production of that musical opened over the weekend at Foothill Music Theater in Los Altos.
The show is about women working in a corporate environment where they experience sexual harassment, and other abusive treatment, and then what they do about it.
The Broadway production was adapted from the movie, which starred Dolly Parton, Lily Tomlin and Jane Fonda. For the musical Dolly Parton wrote a dozen or so new songs.
"9 to 5: The Musical" is a bawdy, slapstick adventure. It seems to be reaching back into vaudeville comedy history for some of its tone.
That said, the show is also a wincing experience to watch, in the context of the Me-Too movement of the past year, which has changed the national dialogue on sexual harassment. It's curious, in fact, that a show like this would be programmed in the wake of the past year's Me-Too discussions.
Questionable choice
"9 to 5: The Musical" makes quirky fun of sexual harassment in the workplace, and milks that harassment for jokes. Sexual harassment is presented in a fun, jovial way, as part of the show's story. That seems a questionable choice for the harassment discussion, as it's evolved in the last year.
For a story, the "9 to 5" women in their corporate workplace are badly mistreated. After a while, they cook up a response scheme, and eventually take over. The dialogue contains risqué, double-entendre off-color jokes.
The 1979 movie was hugely popular, and the subsequent television series less so. The 2009 musical has struggled to find its audience. In the Los Altos Hills production, Allie Townsend is strong in the Dolly Parton role of Doralee, dressing up in tight and low-cut clothing. She is constantly fleeing the paws of her boss (Aaron Hurley).
There are notable moments among lesser ensemble cast members. Jordan Covington performs acrobatic choreography, and later has a funny moment as a morgue worker eating a pastry. His role is small, but he is a newcomer with talent.
Kayvon Kordestani staggers playfully as an upstaging alcoholic office employee.
The music
Parton's music is decent show music. "I Just Might," sung by the trio of women leads (Townsend, Glenna Murillo and Rachelle Abbey), is a moving song about bottoming out in a sexist world, followed by a self-assessment reflection, and then growth.
In her vampy crush song "Heart to Hart," Angela Cesena is amusing as the secretary with a crush on her boss (named Hart).
Director Milissa Carey and choreographer Claire Alexander have wound the show up nicely.
Thematically, "9 to 5" is also, in part, about the unfulfilling nature of the workplace. Most people are not fortunate enough to find a job they love, and that experience creates a soul-eroding life. As a result, we live now in an era of stress, with no off-switch. This theme is alluded to in the show, but not developed.
If someone decides to bring back "9 to 5" for a fourth time, my suggestion is that they explore that aspect of the story.
For tickets to "9 to 5, the Musical" visit foothill.edu/theatre/productions/9to5.html, or call (650) 949-7360.
John Angell Grant is the Daily Post's theater critic. Email him at johnangellgrant@gmail.com.