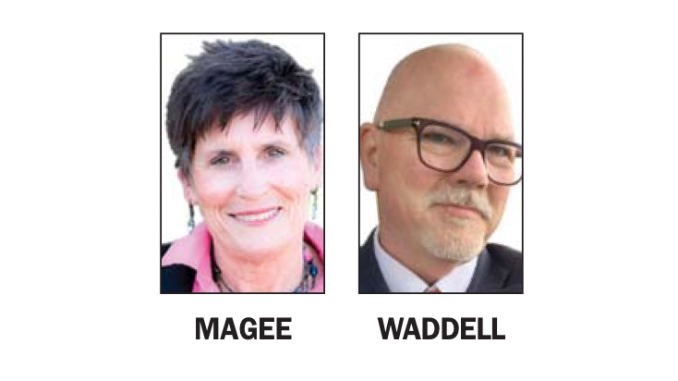 BY EMILY MIBACH
Daily Post Staff Writer
While a number of elected officials in San Mateo County are technically slated to go before the voters in June, most incumbents are not being challenged or facing serious opponents and the most competitive race might be that for county schools superintendent.
Current superintendent Anne Campbell is retiring and two of her employees, Gary Waddell and Nancy Magee, are vying for her seat.
Waddell, instructional services deputy superintendent, has a slight fundraising edge, having collected $54,724, according to forms filed with the county Elections Office.
Donors Waddell has gotten money from: former county superintendent Jean Holbrook ($7,675), Ravenswood City School District Superintendent Gloria Hernandez-Goff ($250), Belmont Councilman Charles Stone ($250), state Assemblyman Kevin Mullin ($1,000), state Sen. Scott Wiener ($250) and Redwood City Councilwoman Shelly Masur ($100). Magee, associate superintendent of student services, also has local political leaders funding her war chest.
Magee has gotten funds from: County Treasurer-Tax Collector Sandie Arnott($100), Sheriff Carlos Bolanos ($150), Supervisor Don Horsley ($500), former state assemblyman Gene Mullin ($250), former sheriff Greg Munks ($500), County Controller Juan Raigoza ($250) and District Attorney Steve Wagstaffe ($300).
Sheriff's race Another race in the county that's seen money flowing is that for Sheriff.
Sheriff Bolanos is being challenged by Deputy Mark Melville. Bolanos, the former undersheriff, was appointed as sheriff in July 2016 by the Board of Supervisors after then-sheriff Greg Munks retired due to a heart condition.
According to forms filed with the elections office, Bolanos has raised $154,365 and Melville has raised about 8% of what Bolanos has, with $12,512.
The other contested race in San Mateo County is for Judge Gerald Buchwald's seat. Buchwald will be facing San Carlos resident Richard Wilson, who retired last year as senior counsel for the UC system. Financial forms stating how much either candidate has raised, if any, have not been filed.