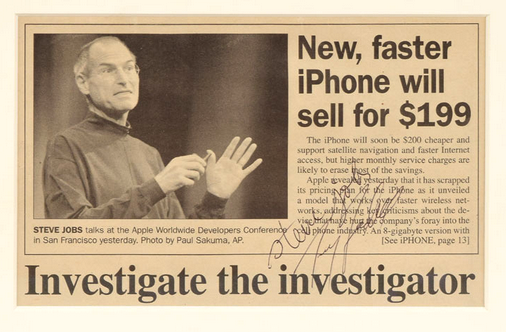 By the Daily Post staff
A Boston auction house is selling Steve Jobs memorabilia including this autographed article from the front page of the June 10, 2008, edition of the Palo Alto Daily Post.
The article features an image of Jobs speaking at the Worldwide Developers Conference in San Francisco where the iPhone 3G was introduced.
The seller told the auction house, RR Auction, that Jobs signed the newspaper at the Fraiche Yogurt Shop at Hamilton Avenue and Emerson Street in Palo Alto where he was eating with the "Father of the iPod" Tony Fadell, who also signed the article.
The auction site includes these comments from the seller, Andrew Luce Jr.:
"I went to a frozen yogurt store called Fraiche Yogurt with my mom when I was about 10, right after the iPhone 3G was announced. I went to the bathroom, and my mom noticed Steve Jobs sitting outside with a friend. She picked up a newspaper off the counter, which had a photo of Steve on the cover talking about the release of the next iPhone, and she walked outside, asking Steve to sign the paper.
"Steve politely declined several times, stating that everything at Apple was a group effort, so he didn't like to sign and take credit for everything. My mom is pretty persuasive and was eventually able to convince Steve to sign; but under Steve's condition that the person sitting with him would have to sign it as well. That friend turned out to be Tony Fadell, known as the Father of the iPod, who was working at Apple during that time and instrumental in the design and development of the first iPod which later morphed into the iPhone.
"Mr. Fadell eventually left Apple and went on to found Nest, a company sold to Google for $3.2 billion and he is now developing many other companies and technologies. So when I came out of the bathroom, and my mom showed me the newspaper pointing to Steve and Tony outside, since I was literally too starstruck and nervous to go outside and say anything to Mr. Jobs, I asked my mom if I could have the signature, and I have had it on my wall ever since."
The website Macrumors says the signature on the Post is expected to fetch somewhere around $15,000 when it is auctioned off.