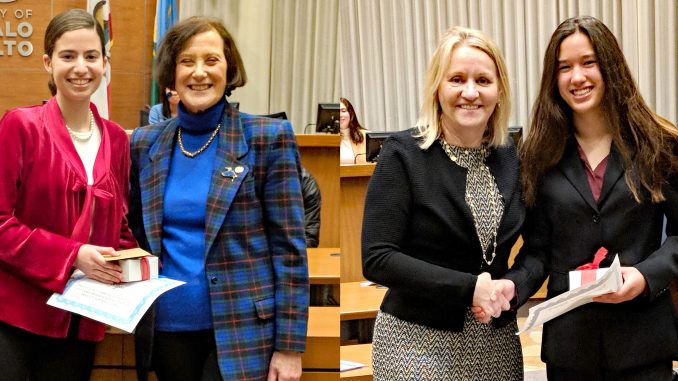 By the Daily Post staff
Two girls from Gunn High School are the winners of the Palo Alto Rotary Clubs student speech contest.
The two Rotary Clubs in Palo Alto hold the contest every year, and the students deliver their speeches in the Palo Alto City Council chambers.
Anna Allport won the Palo Alto Rotary Club's contest with a speech titled "Laughter is the Best Medicine."
Sophia Chiang won the Palo Alto University Rotary Club's contest with a speech called "Have You Earned Your Tomorrow?"
On hand to present the awards at the Jan. 24 event was Annette Glanckopf, representing the Palo Alto Rotary Club, and Castilleja Head of School Nanci Kauffman of the University Rotary.
Students were allowed to pick any topic of interest as long as the speech relates to this year's contest theme, "Rotary: Making a Difference."
The rules say that the speeches cannot be under 4 minutes in length or over 5 minutes. No props, displays or prompters were allowed. They were only allowed to use notes on 3×5 cards.
The first place winners get $200 and second place winners $100.