BY EMILY MIBACH
Daily Post Staff Writer
The Depot Cafe, a much loved diner that offers breakfast food and has pictures of trains covering the walls located at the San Carlos Caltrain Station, is closing Feb. 18 after 34 years in business.
Owner Mary Noviscky said construction of a large complex of offices and apartments at the station caused her landlord, SamTrans, to reduce the parking available for the 44-seat restaurant, and that forced the closure.
"It's sad, Mary is very sweet and the food was great," said Ben Fuller, a member of the Greater East San Carlos Neighborhood Association near the restaurant. The association originally fought the development.
The development, which includes the train station and the land on the west side of the tracks, will consist of eight buildings totaling 300,000 square feet of office and restaurant space and 200 apartments.
Noviscky said that before construction, the cafe had 12 spaces. Now they're down to six spaces, and those are located a 10th of a mile away. That's caused her to lose business.
"Really it's like I have zero parking," Noviscky said. "They think my business is all from the train, but 90% of my customers are seniors, disabled or have young children. It's not the train people who are rushing around with Starbucks in their hands trying to catch the train."
Landlord responds
SamTrans officials said in a statement yesterday that it attempted to "protect the Depot Cafe from the consequences of the project by reducing their rent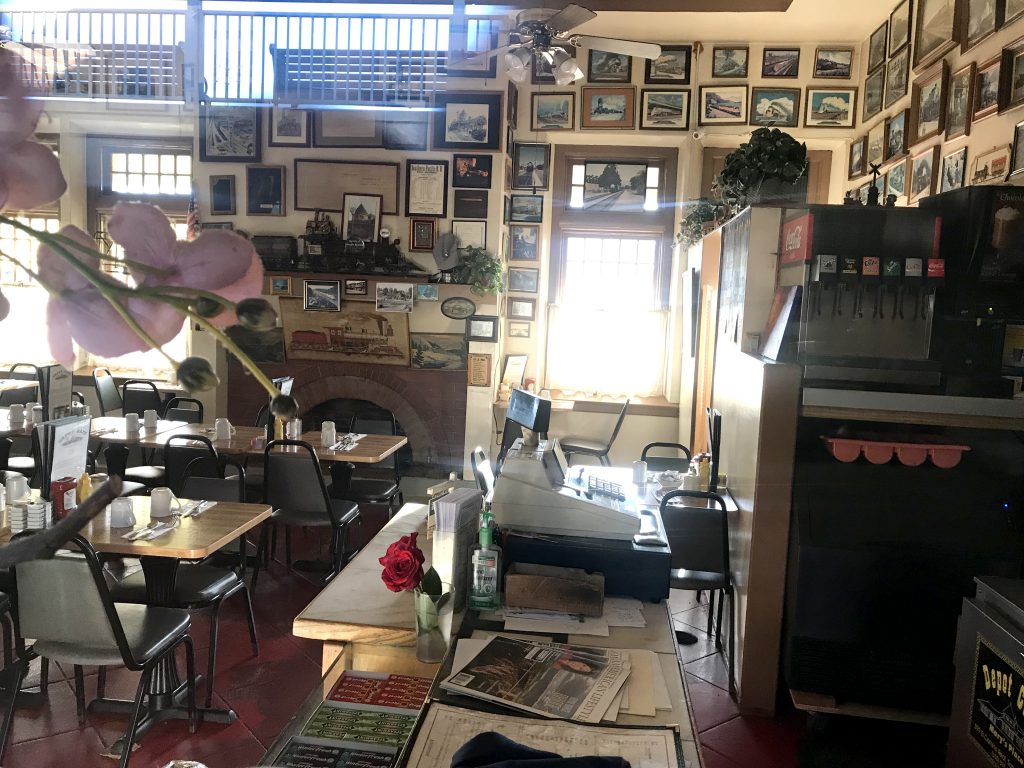 and ensuring that, as different positions of the parking lot were closed, they had the closest available spots. We have been happy to have the Depot Cafe as a tenant for many years and are sorry that they have chosen to end their lease, but we look forward to the project delivering a model transit-oriented development."
Noviscky said SamTrans reduced her rent from $2,600 to $2,500 when they cut her parking spaces. In 1995, Noviscky said her rent was $500 a month.
Noviscky said the cafe will be closing on Feb. 18, and she is not thinking about reopening once construction at the station has ended.
Noviscky said her phone has been ringing off the hook with well wishers and people asking her to stay, but her mind is made up, and at 70, she is retiring from the restaurant business. She will be working in real estate, and might even take a vacation.
Longtime regulars of the diner have been posting on social media about their sadness about Noviscky closing up shop.
Reaction
"My family and I were furious, hurt, sad and honestly — we felt hoodwinked. I couldn't imagine how Mary and her family felt. When I confirmed the news with her daughter, I know I wasn't the only community member crushed," wrote Sabrina Caton on Facebook.
PenTV posted a picture of the Depot on Instagram with the caption, "I'll never let go."
"One of my favorite places for breakfast. And again we see another mom & pop store being closed down, what a shame," tweeted Douglas @lifeonthetarmac.
"Depot Cafe will soon be gone and probably replaced by a chain restaurant. SF Bay Area growth is erasing its own history," tweeted @BPMSmith.
"Sad to see Mary having to close like this, I would always go there for breakfast when going to the #SanCarlos office great food and awesome service," tweeted Tim Wilson @IAMTimWilson.
City officials posted on Facebook and NextDoor yesterday that while they have heard from a number of residents about their heartbreak over the cafe's closure, the city has no say in what businesses move in and out.
"BOOOO!! The whole new apartment development sucks, the relocation of the Caltrain parking lot sucks, and now arguably the most iconic business of San Carlos is being forced to close? Who do we contact?" Evan Keane wrote.
"We all love Mary. She and her cafe are a fixture of San Carlos — we hate to see that change. Please keep us posted, and please encourage an open dialogue — letting the parties know how much we love the cafe and Mary!" wrote Laureen Spini.