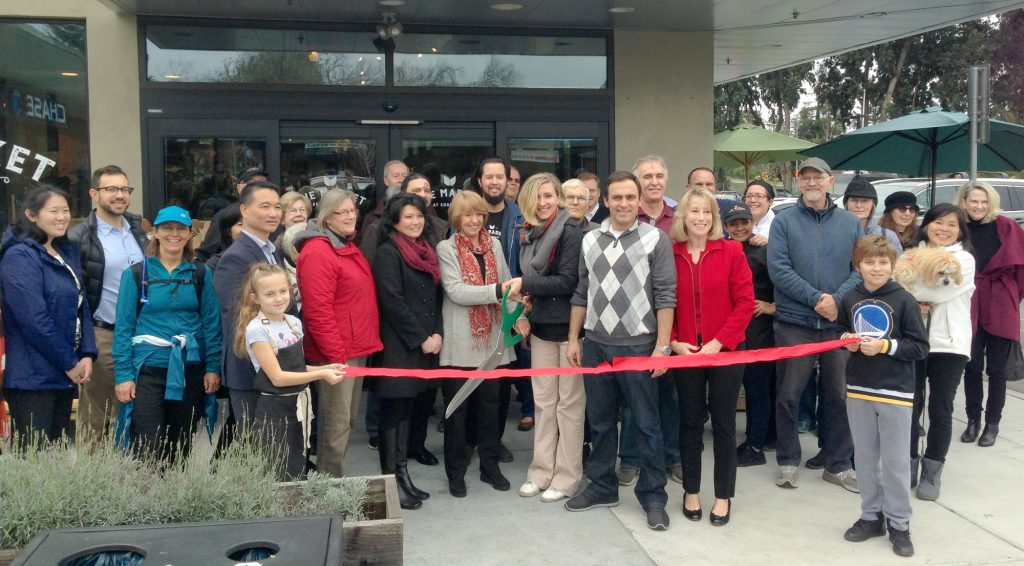 Palo Alto's newest grocery store is celebrating its grand opening tomorrow through the weekend, and you should check it out.
Family-owned and operated, The Market at Edgewood just opened its doors as a soft opening last month at Edgewood Plaza. For the grand opening, they'll be offering wine tastings and samples of baked goods, deli products, salsas and sauces and more. Kids will love it too, because a face painter will be there from 3 to 6 p.m. tomorrow through Friday and from 11 a.m. onward on Saturday and Sunday. And shoppers will be welcomed with some special grand opening deals, including getting $5 off $25 or more in purchases.
The market represents the newest page of the American dream for owner Mustafa Mutlu and his family, including daughter Emel and son-in-law Aydin Kyazim. Having immigrated here as refugees in 1990, the family's dream was to one day run their own business. Coming from an agricultural background in their native Bulgaria, they opened Crystal Springs Produce in 2009 in San Mateo. The store rapidly became known not only for its fresh fruits and vegetables, but also for offering international specialties.
The new Market at Edgewood is a full-service grocery store, but the family remains committed to its core mission of providing quality goods at affordable prices. Mustafa Mutlu remains in charge of produce, going to the produce market in South City in the wee hours every morning to hand-select the freshest fruits and vegetables for the store. More than half of the produce from Market at Edgewood is organic, much of it coming from local producers like Lakeside Organics of Watsonville.
They carry a wealth of international grocery products, from Mediterranean and European specialties to East Asian, Thai, Indian and Russian items. Near the bakery, you can get fresh and authentic Turkish delight straight from Istanbul.
The Mutlu-Kyazim family has also recruited some veteran local talent to help round out the store's offerings. Isabella Cosentino Costa runs the bakery, which makes all its delicious cakes on-site from scratch. Her husband, Butch Costa, can be found in the meat department, whipping up poke fresh every day and making his hot Italian sausages in-house. The meat department is proud to offer beef from Creekstone Farms, which raises all its cattle on a GMO-free 100% vegetarian diet, doesn't ever use hormones or antibiotics and is an industry leader in its certified humane handling practices.
Around the corner from the deli, Jessie Trujillo wears the moniker "The Cheese Lady" and can be seen carving into a wheel of fresh Parmigiano-Reggiano or handing out samples of a flavorful French Brie.
The Market is also a great spot for lunch, offering a salad bar, sushi and made-to-order sandwiches and a la carte hot options at the deli. They also have hot breakfast burritos in the morning for those looking for a quick a.m. option. The family says their selection will continue to grow as they focus on gathering feedback from customers and the community.
So whether you're shopping for dinner or grabbing a quick meal, come check out your new neighborhood market!