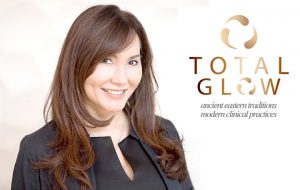 If you want healthy, vibrant skin, call Total Glow in Menlo Park, which offers clinical-level treatments in a serene and elegant setting.
Headed by licensed medical aesthetician and certified Ayurvedic health counselor Terrie Absher Kochman, Total Glow is committed to seeing each client achieve results you'll see and feel.
"It's never too early to start, and it's never too late," said Terrie. "Our focus is to create healthy skin, which is then less vulnerable to inflammatory responses and sun-related aging."
The quest for great skin is personal for her, because she had struggled with her own sensitive and reactive skin her whole life. And in fact, 15 years ago, a chance conversation with a dermatologist friend inspired her to turn her lifelong interest in skin health into a career. Since then, she's acquired years of clinical experience practicing as an aesthetician and as a licensed Ayurvedic health counselor in the Peninsula, expertise in the field and deep knowledge about skin nourishment and treatments that support it.
At Total Glow, all treatment starts with an individual consultation with Terrie, who can guide you on a suitable course of procedures and skin care products. She recommends most clients start with her HydraFacial MD, a clinical-level deep cleaning facial that's suitable for all skin types (even sensitive ones) and never fails to impress clients with how soft and refreshed their faces feel afterward.
"They're so stunned by how immediate the results are," she said. "The skin feels plump and hydrated."
Total Glow is unique in that they are Hydrafacial MD experts whose experience with the procedure is unmatched since they have used it since its debut in 2003. In addition to making your skin feel great the Hydrafacial MD also clears your skin, heightening the effectiveness of any skin care products that may follow. Total Glow offers the Environ line of pharmaceutical-grade skin care products that, among other things, replenish the skin's Vitamin A, C and E needs. Treatments from the Environ DF machine can stimulate collagen, tightening and brightening the skin.
Total Glow also offers massage, Ayrvedic herbal steam treatments, acupuncture and other services that promote relaxation and whole-body wellness. Terrie and her staff take the time to get to know each client and their needs so that they can work with you to achieve the best skin you can and so that you always feel cared for. All treatments are gentle and noninvasive.
Total Glow is open Monday through Saturday with Sundays by appointment. Appointments are available online and by phone, and walk-ins are welcome. For more information, call them at (650) 409-1200.