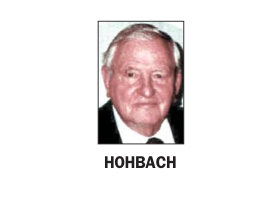 BY ALLISON LEVITSKY
Daily Post Staff Writer
Palo Alto developer and Silicon Valley patent lawyer Harold Hohbach has died, marking the end of an era in a city that will con- tinue to bear his unusual style. He was 96.
Hohbach died on Thursday at his Atherton home, according to his children.
In 2010, Hohbach accused the city of Palo Alto of trying to delay his project at the corner of Park Boulevard and Page Mill Boulevard until his death. The project, which combines office space and 82 apartments, was eventually approved at 195 Page Mill Road in June 2012. Hohbach's mixed-use projects can be seen in the California Avenue area as well as at 195 Page Mill Road, the Birch Plaza project at 305 Grant Ave. and the Sheridan Apartments.
The Sheridan Apartments, built in the 1990s, feature a quirky courtyard fountain sculpture with a woman holding a washing machine above her head.
Hohbach was born the oldest of six children in Plankinton, S.D., on Dec. 3, 1921. According to his children, during the Great Depression he drove a horse and buggy to school and studied by kerosene lamplight. He married Marilyn Alice Krouser in the 1950s and had four children, Douglas, Janet, Ellen and Ann, and 11 grandchildren.
Hohbach earned a bachelor's degree in electrical engineering at South Dakota State University in 1943 before joining the U.S. Army Signal Corps, where he served as a first lieutenant in Germany and North Africa during World War II. He later served as a major in the Army Reserve.
Afterward, Hohbach earned a second bachelor's degree in business administration and law degree at UC-Berkeley, finishing up in 1952.
Hohbach worked for the law firm Flehr and Swain, which later became Flehr, Hohbach, Test, Albritton and Herbert. In 2002, the firm merged with Dorsey and Whitney and Hohbach retired from law practice.
His 50-year practice included electronics, semi-conductor manufacturing, mainframe computing, optically variable thin films and electromechanical, mechanical and medical devices.
"My dad cared deeply about building for the future. He came from little and sacrificed a lot to give back to his community and family," Janet Hohbach, one of Harold Hohbach's three daughters, told the Post. "He had an amazing work ethic and enthusiasm for life. We will miss him greatly."
Hohbach's memorial service is planned for 2 p.m. Feb. 2 at the Menlo Church at 950 Santa Cruz Ave. in Menlo Park.