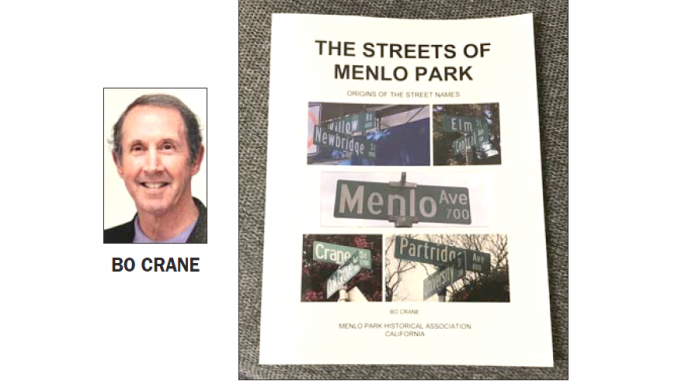 This story was originally published in the Daily Post on Nov. 13.
BY EMILY MIBACH
Daily Post Staff Writer
If you've ever wondered who or what a street is named after in Menlo Park, a new book published in honor of the city's 90th anniversary will likely satisfy your curiosity.
"The Streets of Menlo Park," released by the Menlo Park Historical Society last month, was written and researched by the society's secretary, Bo Crane.
Some streets, such as Avy Avenue, tell the story of how being on the wrong side of the creek from Stanford pushed attention away from Menlo Park and to Palo Alto. Avy Avenue, was named for Eugene Avy, who developed land near Cloud Avenue and advertised the development, called University Heights, as "Near the Leland Stanford University."
However, at the same time, Timothy Hopkins, a treasurer for the Southern Pacific Railroad, began buying and building on land on the same side of San Francisquito Creek as the university. Hopkins called his development "University Park," and later "Palo Alto."
Eventually, the train for Stanford stopped using Menlo Park's depot as its home base, and instead began using the University Avenue train station.
While some streets are named for those who worked for Stanford, others are named after property owners and their relatives.
Crane said one of his favorite discoveries was the story behind Marmona Drive and its relationship to McKendry Drive in the Willows neighborhood.
Marmona Drive is named after the daughters of Archibald McKendry — Marion and Ramona. Archibald McKendry's father, also named Archibald McKendry, was a colonel for the Union army in the Civil War and ended up buying 190 acres in the Willows area.
Crane made a concerted effort to try and find the story for every road and street in Menlo Park, but some were hard to trace.
But for some streets, like Lucky Avenue, there isn't a whole lot of story, so Crane tried to tie it to someone with the nickname lucky, as well as the brand of chewing tobacco, Lucky Strike.
Others were hard to determine who they were named after, Crane said.
Some streets, like Lorelei Lane or Arnold Way, are likely named after people's first names, so Crane would look in the census for the time the streets were named to try to find the best match.
For Arnold Way, he tried to find someone living in the area, and when he couldn't, his best educated guess is that Arnold Way is named after Arnold Rumwell. Rumwell was a longtime city attorney for Palo Alto, and worked with Menlo Park's City Attorney at the time, James O'Keefe Jr., who may have had some renaming abilities for the area, Crane suggests in the entry for Arnold Way.