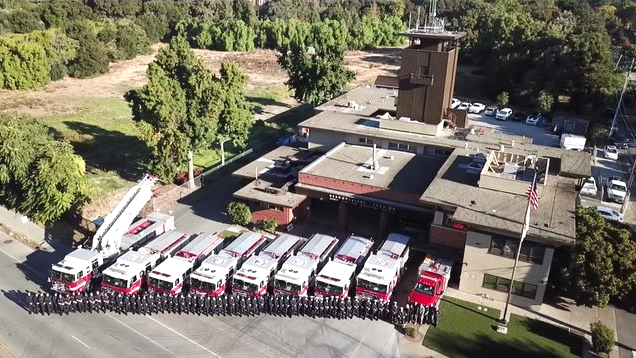 BY EMILY MIBACH
Daily Post Staff Writer
The Menlo Park Fire Protection District announced yesterday (Dec. 20) it has bought an acre of land for $6.6 million from St. Patrick's Seminary, which will allow the district to eventually rebuild its 62-year-old fire station next door at 300 Middlefield Road.
The land purchase will allow the district to have a drive-through garage for its trucks. Right now, trucks block traffic on Middlefield when they back into the fire house. After the rebuild, trucks will be able to drive into the garage from the back and exit from the front.
The district has long wanted to rebuild the firehouse, known as Station 1, which has been remodeled several times since it opened in 1955. Fire Chief Harold Schapelhouman last year described the station as the "Winchester mystery house of fire station remodels."
The station was built on land the district purchased from the seminary in 1952.
District's building program
The district — which serves Menlo Park, East Palo Alto, Atherton, North Fair Oaks and West Menlo Park — last year opened a new fire house to replace the aging Station 2 at 2290 University Ave. in East Palo Alto at a cost of $7.6 million.
Currently, the district is rebuilding Station 6 at 700 Oak Grove Ave. in Menlo Park to the tune of $7 million.
In June, the district spent $4.6 million to buy a house at 28 Almendral Ave., next to Station 3 located at 32 Almendral Ave. in Atherton. The house will eventually be demolished and the land used for the expansion of the Atherton fire station.
The fire board has been trying to decide what to do with the house in the meantime — rent it out or use it to house firefighters.
The district has also spent $5 million to buy a 28,000-square-foot warehouse in East Palo Alto for its National Urban Search and Rescue Task Force and other special operations.
"Land acquisition is crucial to our ability to properly expand existing essential service facilities for future growth along with directly addressing evolving service demands and challenges," Schapelhouman said in a statement.
To deal with growth in east Menlo Park and East Palo Alto, the district is buying another ladder truck and creating a "chief officer" position for that area. The moves will cost the district about $1.7 million and were approved by the fire board Tuesday.
New fire board officers
Also on Tuesday the five-member board selected its president and vice president for 2018.
Chuck Bernstein was unanimously elected as president, after an attempt by outgoing President Peter Carpenter to make Vice President Rob Silano the next president fizzled out.
Carpenter nominated Silano but nobody on the board seconded the nomination. So Silano seconded his own nomination. Silano only got two votes, his and Carpenter's.
Then Virginia Chang Kiraly nominated Bernstein and Robert Jones seconded it. All five board members voted for Bernstein.
Carpenter then nominated new board member Robert Jones for vice president. But Jones declined the nomination, saying he wanted to serve more time on the board before becoming an officer. Jones then nominated Kiraly, who was approved 4-1, with Carpenter dissenting.