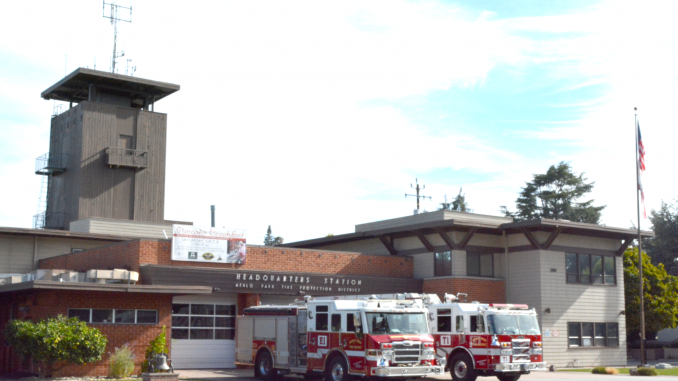 Menlo Park Fire Station No. 1 at 300 Middlefield Road. Photo from district's website.
BY EMILY MIBACH
Daily Post Staff Writer
The Menlo Park Fire Protection District board could appoint a new board member Tuesday (Sept. 19) following the departure of Rex Ianson.
Ianson resigned on Aug. 31 because he is moving out of the state. The board will interview seven residents who have applied for Ianson's seat.
The board has 60 days from Ianson's resignation to appoint a new member or call a special election before the San Mateo County Board of Supervisors would fill the vacancy.
Here are the applicants:
• Sean Ballard, a Menlo Park native, is the CEO of Eigenvector Capital, an investment consulting firm.
• Scott Barnum, a Menlo Park resident, is the CEO of a supplement company called Black Brain Health and chairman of the Atherton Disaster and Preparedness Team.
• Cynthia Bosworth, a Menlo Park resident, is a retired Hewlett-Packard manager and a resident representative on the district's Emergency Preparation Committee.
• Michael Hoff, an Atherton resident, is a regional manager for Mizuho, a medical supply company.
• Robert Jones, an East Palo Alto resident, is executive director of the East Palo Alto Community Alliance and Neighborhood Development Organization.
• Stephen Nachtscheim, an Atherton resident, was a Menlo Park Fire Protection District Board member from 2009-2013.
• Jeff Pallin, a Menlo Park resident, is the dean of workforce and economic development for the San Jose Evergreen Community College District.