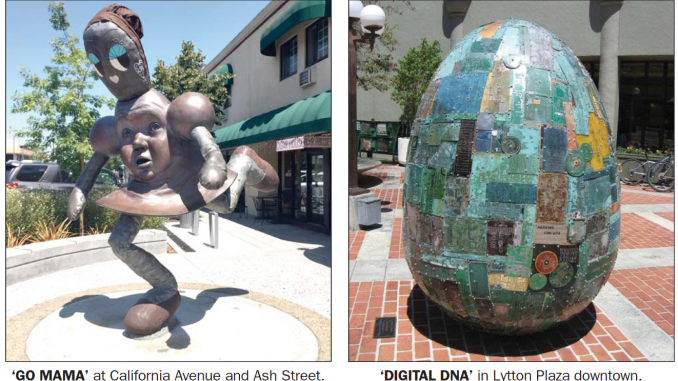 BY ALLISON LEVITSKY
Daily Post Staff Writer
Two controversial sculptures, "Go Mama" and "Digital DNA," will be rolled out of commission on Palo Alto city streets, the Public Art Commission agreed last night (Nov. 16), despite allegations of political censorship from the artist behind the latter.
"Digital DNA" is the 7-foot-tall, egg-shaped sculpture that has stood at Lytton Plaza since 2005. "Go Mama" is the 6-foot-tall bronze doll with a face on its belly on California Avenue at Ash Street.
Commissioners voted unanimously to remove both of them because they've fallen into disrepair.
The city has spent $16,294 on repairs on "Digital DNA," including removal and reinstallation for the purpose of repair, since 2005. The maintenance has included several new clear coatings of the circuit boards, replacements of broken boards and regular filling and replacement of screws that have popped out of the fiberglass shell.
The cost of regular city art crew maintenance isn't included in that cost.
Adriana Varella, the artist who created "Digital DNA," didn't attend the meeting because she was at her art opening on political censorship in New York City, where she now lives.
In a statement read by Ruth Robertson of the Raging Grannies Action League, an activist group that Varella recruited to speak in support of "Digital DNA" at the meeting, Varella accuses the commission of censoring the sculpture because it "talks about how our modern technology can enslave us."
An attack on Palantir
"It is perhaps no coincidence that one of the members of this commission is an employee of Palantir Technologies," Varella writes. "Palantir works with federal agencies like ICE, building data tools for immigration enforcement that look suspiciously like a Muslim registry. It is no secret that Palantir is in the business of assisting the government in surveillance of its citizens."
Commissioner Mila Zelkha has overseen philanthropic and community partnerships at Palantir since 2015. She was absent last night.
The sculpture features words related to technology embroidered on circuit boards. A 2005 press release said that it offered "a momentary reflection about what we have been building, researching and planning for our software and hardware thinkers."
In protest of the proposal to decommission "Digital DNA," Varella created a 5-foot-wide collage of photos of the circuit boards on the sculpture along with the photos and biographies of the public art commissioners, pulled from the city website.
On top of it all is printed, "CENSORSHIP COMMITTEE OF PALO ALTO." The collage is on display at Varella's art show in New York.
The commission has only started notifying artists of the possibility of "deaccession" — the process of removing an artwork from public display — in the last few years. Varella was not told that her sculpture could be removed when she agreed to build it for $9,950 in 2000.
Egg might move to Menlo College
She has made multiple requests through intellectual property attorneys, one of whom was at the meeting last night, for the commission to hold off on the decision to pull the sculpture. But the city has maintained that the commission gave Varella nearly three months' notice that the work might be decommissioned.
Erik Bakke, the director of the Menlo College Writing Center and Intensive English Program, told the commission in an email yesterday evening that the college had been in talks with Varella about moving "Digital DNA" to its Atherton campus.
No other such commotion seemed to have come out of the planned removal of Marta Thomas' "Go Mama," commissioned in 1999 for $15,000. The sculpture's staining and discoloration would cost $3,250 to repair.
Children and adults have often been seen climbing on it since low bushes surrounding it were removed in 2015, which is structurally unsafe and poses a threat to public safety, commissioners reasoned.