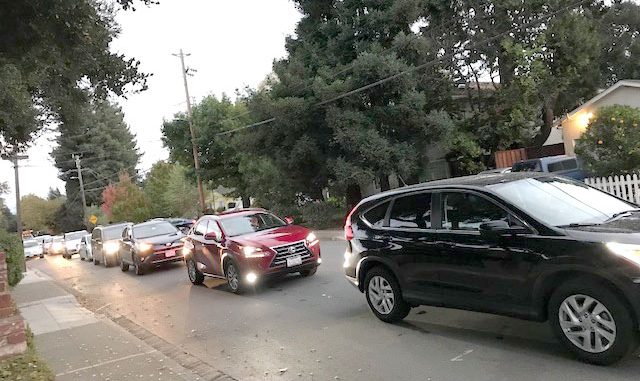 Above, vehicles clog the streets near Arnold Way and Durham St. in Menlo Park. Photo from Ana Uribe Ruiz.
BY EMILY MIBACH
Daily Post Staff Writer
Residents of Menlo Park's Willows neighborhood, which borders East Palo Alto and Palo Alto, are begging the City Council to take quick action to stem a flood of backed-up, cut-through traffic.
"This has moved beyond a nuisance issue, and is now a safety issue!! Please do something about it! No studies," wrote Willows resident Amy Roleder to council.
Roleder's email and others blame the recently installed stoplights at the intersections of Willow Road and Highway 101 and work on the ramps to and from the highway as a reason for the gridlock. The 101-Willow Road interchange is being rebuilt by Caltrans, which when completed will have eight lanes of traffic, wide off-ramps and new sidewalks and bicycle lanes.
Willows residents have long been asking council to do something about the cut-through traffic. According to an update posted on the city's website by Public Works Director Justin Murphy, he and other city officials are working with Caltrans to better synchronize the timing of the new signals and the already existing ones at Willow and Bay roads. Resident Ana Uribe Ruiz said in an email to council that
she has been trapped because of the traffic from 3:45 p.m. to 7 p.m. and as a result has missed classes.
"Who is going to help me get out of my own house as I please? Do I need to call the police to do so?" Ruiz asked council in her email.
Councilman Ray Mueller has asked that Mayor Kirsten Keith place an item on an upcoming agenda. Keith placed an urgency item on Tuesday's (Nov. 14) council meeting.
"This is affecting the level of quality of life and requires us to take some kind of intervention to try to protect these residential areas," Mueller said.
The new normal?

Mueller said it will be important to find out from Caltrans if this is a temporary problem or not, as that will change the different types of solutions the council could approve Tuesday.
"Will traffic go away when the project is completed or is this the new normal? Because if that is the case, then we will need to reply with a more permanent solution," Mueller said.
Possible solutions
Some of the solutions Mueller said could be brought up Tuesday would be finding a way to add capacity to Willow Road so more cars can travel on it while construction goes on and to close the streets to
through traffic during commute times.
The city is also working on a plan to install 11 speed bumps on Blackburn Avenue, McKendry Drive, Marmona Drive, Clover Lane and Baywood Avenue, which would slow drivers and possibly deter them from cutting through the Willows, Mueller said.
The council meets Tuesday (Nov. 14) at 7 p.m. at 701 Laurel Street.